Hello!
Dear Reader
I've always written things down, kept journals, made random notes about anything that came to mind. The main reason was because my mind wouldn't stop. The wheels always turned and new ideas emerged. I really didn't understand this until I started writing with the goal to be a published author in 2008 after being introduced to paranormal romance.
Writing is much more than a career for me. It's a journey that takes me to different worlds filled with magic, mystery, romance, and adventure. I'm overjoyed to be taking it with you, my readers.
Hugs,
Lia
Pre-order Today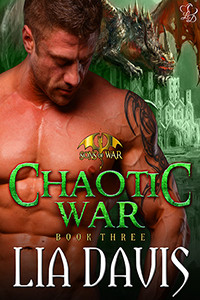 Chaotic War
Sons of War, book 3
Releases February 23, 2016
While Zavier Sullivan may be the calm, reserved brother, his dragon is not. Especially since the beautiful, unorganized demi-goddess, Danielle Roberts—a.k.a Elle—moved into the mansion and into his life. She disturbs his OCD and makes him yearn for things he shouldn't, but he can't stay away from her. Nor can he deny her anything. Including his blood.
Recently Released