New release, new series, and a Hotspots teaser
Happy release day! LA and I are so thrilled to bring you guys new series in the After Forty universe – Hunting After Forty. You meet a new character, Blair Braden, who teams up with Lily Walker (Drew's sister) for ghostly mysteries and lots of laughs.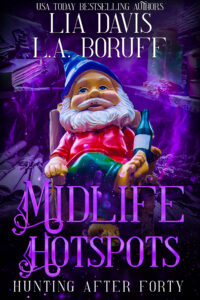 Midlife Hotspots
Hunting After Forty, book 1
Lia Davis & L.A. Boruff
Antique store owner and ostracized paranormal hunter, Blair Braden lives a quiet small-town life, running her antique shop and minding her business.
The hunter guild gave her the boot thirty years ago when they discovered she was pregnant with a half-shifter baby. Since then, the wolf pack her daughter belongs to has become her extended family, complete with fur, fangs, and claws.
Life is good and drama free.
Until Lachlan James, her baby-daddy, Alpha of the local wolf pack, and a very good friend comes to her for help. One of his wolves is being haunted, and Blair is just the non-hunter for the job. She's got an affinity for hauntings, despite not technically being a hunter anymore.
Of course, she has to help. It's not like she has a ton of things to do herself, like selling her antiques, keeping an eye out for cursed objects, and trying to figure out if her shop is being haunted. There are strange things happening, that's for sure.
She'll drop everything and help the haunted wolf because that's the right thing to do.
And Blair always does the right thing.
Get it from Amazon: https://www.amazon.com/dp/B0BJC8CQ3N
Also available in Kindle Unlimited!
Excerpt:
This was my life. A life of small mysteries and large trinkets. Of ghosts and shifters and all things paranormal.
It was a wild ride, but I wouldn't trade it for the world.
Back at My Junk, Your Trunk, I parked my car in its usual spot near the back door, sent Lach a text to send one of the pack members to pick up the writing desk, and sent him the address.
He replied after a moment or two. Sure thing, Mama.
I smiled at the endearment and got out of the car.
The second I stepped in the back door, I knew I wasn't alone. I froze for a moment, stretching out my hunter senses. Someone was definitely there. In the dark. Watching me. Waiting for something.
I reached into my pocket and pulled out my cell phone. I dialed 911, then let my finger hover over the send button. "Hello?" I called. Probably not my smartest move, but it was more than likely either Meggan or Lachlan.
I stopped carrying a weapon on my person years ago when I was forced to retire. Right then I wish I had my knife on me.
It could've been a ghost, but I didn't feel hot, so that wasn't likely. "Who is there?" I called in my most demanding voice. There were weapons all hidden over the place, strategically placed. Just because I was retired didn't mean I wasn't still a hunter. It was in my blood. Every move was instinctual. Our sixth sense was magically enhanced to warn us of danger and tell us to take out rogue paranormal beings.
With my left hand ready to dial the emergency line, I reached over the doorway leading into the main part of the store and grabbed a sword that hung there for just such an occasion.
"I'm armed," I warned. "If you're here to rob me, you picked the wrong shop."
"Calm down," a soft, sassy voice replied. "If I was going to rob you, I'd be long gone."
I stepped into the main room to see none other than Lily Walker sitting in an antique chair I loved. It looked like a throne. Oh, how fitting since the Walker family was like royalty among the hunters. Seriously, they were like a founding family or something.
"Lily." I lowered the sword but didn't put it back. Maybe it was because I spent the last thirty years as an unofficial member of a wolf pack and the fact that I didn't trust other hunters anymore. It wasn't a good thing to see hunters in your small town.
God, I hoped they weren't having a convention.
Lily was the youngest of three. She was beautiful, fit, and kicked paranormal butt as a hobby. Her long black hair was pulled back into a ponytail, but her blue eyes seemed to see through to my soul.
"I'm retired," I said flatly, holding her stare. No way she was pulling me back into the life. Not after the way they'd unceremoniously dumped me. It was never a good day to come home and find a Walker waiting.
Lily burst out laughing. "Yeah, about like my brother Drew. He calls himself retired, then goes and marries a necromancer and their best friends are a fae and a vampire. In fact, he and his new wife are doing a job for Grandmother. So we never really retire."
I bet Lily would fall in her grandmother's footsteps and hunt monsters until she died. Pearl Walker breathed, ate, and slept hunting. She was a force.
I'd heard about Drew and his new family. It was wonderful that the matriarch of all of the eastern United States hunters, who also happened to be Drew's grandmother, had gone to support him and his marriage. "Well, I am definitely retired. So, I hope this is a social call."
"I've been reassigned." She stood and walked toward me. "This is a nice place. Tiny. Usually, places like this are super dusty."
Huh? I looked around and noticed she was right. There wasn't a speck of dust anywhere. What in the world? It usually was very dusty.
Lily's voice drew my attention back to her. "Northeastern Florida is having far too much ghostly activity. They wanted someone nearby. Since you live here, I thought I'd stop by as a courtesy."
Yeah, I noticed that too, but I figured it was me. I'd always seem to attract ghosts for some reason. I waved my hand at her. "I'm still retired."
"Okay." She nodded. "I just need a place to stay. I'm in a hotel now. If you know of any rentals, please let me know?"
That was fair enough. I did have an apartment over my store that I used to live in. I moved out to the small house closer to pack land not long after Meggan was born. I wasn't sure I wanted Lily that close. So I wasn't going to tell her about it. "Sure." I nodded. "That I can do."
Stepping forward, I put my hand out, clearly indicating she could make her way out the back door, presumably the way she'd come in. "Thank you for coming by. I'll be sure to call you if I find anything out."
She chuckled and let me usher her out. "You don't have my number."
"You know, if it's meant to be, I'll guess it." I beamed at her as I tried to crowd her out the door, but she stopped short.
"Here." She tapped on her phone screen, then handed it to me. "Text me something."
While suppressing a sigh, I typed in, this is Blair and hit send. "Okay, bye-bye now."
Shutting the door behind her gave me an immense sense of relief, as did whispering, "I. Am. Retired."
Get it from Amazon: https://www.amazon.com/dp/B0BJC8CQ3N
Also available in Kindle Unlimited!