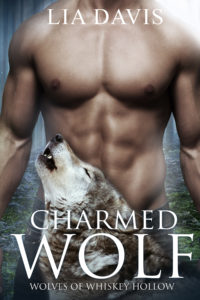 Wolves of Whiskey Hollow, book 1
Available at:  Amazon I Apple I Google I Kobo I Nook 
Read on Kindle Unlimited
Paperback available at:  Amazon I Nook
Power is her greatest weakness, but love could be her salvation.
Dana Hutson is about to make one of the toughest decisions of her life: walking away from her twin and her Pack. But the anger of her late mate's betrayal burns deep, and her guilt threatens to push her over the edge. Combined with the magic she was born with intensifying to a lethal level, she has no choice but to leave Whiskey Hollow in search of her inner peace. But what she finds could be more than she bargained for.
Cooper Reed will do anything to keep his sister and adopted daughter safe from the demented rogue Alpha of the Bloodrose Creek Pack. That includes killing anyone who threatens his family and going on the run. He is willing to do whatever it takes. He isn't prepared to find his mate in the midst of the chaos.
When even more secrets and dangers come to light, Dana and Cooper must band together to stop the rogue and his minions before all is lost. But will their bond be enough to harness the power needed to defeat such a foe?

Excerpt:
Pain arched across her skull, piercing every nerve ending. Dana growled, holding her head in her hands. With deep, calming breaths, she gathered the built-up magic that ran in her veins, the power that grew stronger every day.
Dreams of destruction and loss had interrupted her sleep over the last month. With only a few hours of rest a day, she feared the control she tried desperately to maintain would slip. She could kill her brother, then the Pack.
Ross did this to us. Her wolf's words cut through the hammering ache in her skull.
Ross wasn't their true mate. The mating had been a political arrangement between his Pack and hers, to merge two small groups of wolves together. The first few years had been good, and she'd actually believed she could grow to love him. She'd trusted him to be the strong Alpha that her father was.
However, when the Alpha power transferred to Ross from her father, everything changed. As Ross's mate, the Pack magic mixed with the power Dana been born with. The power the witch's Coven, her great-aunt's Coven, believed was a gift from the goddess, Diana.
Ross became drunk on the magic and wanted more. He went from a compassionate wolf to a power-hungry, abusive mate. He distorted her Pack, and broke her in ways she wasn't sure could be fixed.
She'd learned to hide the witch's power from him, containing it deep within her soul. But that power had only grown, and now, it wanted out.
"You don't have to go."
Dana squeezed her eyes shut and willed away the ache in her head and her chest. Her twin brother's soft plea hurt on so many levels. In all of their hundred years of life, they'd never been separated. Never needed to be. They were linked through a familial bond, as well as psychically.
Since Darin had taken over Whiskey Hollow as the Pack Alpha, his power was now hers. And her agony was his. She couldn't stay, knowing that she caused him pain and may one day hurt him physically. "Dare, we both know I can't stay. Our link is too strong, and I'm not sure how much longer I can hold my wolf back from challenging you. She grows more aggressive as the poison inside me grows. A healthy Pack can't survive with two Alphas."
"You are not poisoned. I took Ross's Alpha power when I killed him." Darin stepped closer, his hand extended to her.
Involuntarily, Dana growled and jerked back. "Don't touch me!"
He let out a soft sigh and lowered his hand. Disappointment and sadness flowed along the link that bound them as twins. Dana hugged her waist. She wanted nothing more than to embrace her brother and believe that everything would be okay. But she couldn't.
"Where will you go?"
Dana shrugged. "Not sure. North, maybe."
Darin shoved his hands into his pockets. "I can call a few Packs and ask if you can stay in their territory."
She sighed and shook her head. "I'm not going to put any other Pack in jeopardy. I know where the neutral zones are, and I plan to stay within them."
The truth was, she had a place about twenty miles west of Whiskey Hollow. However, she didn't want to tell her brother that was where she planned to go. Although, he'd find her anyway. And he would, just to keep tabs on her.
She needed the time to get control of her wolf and the growing power within her.
"Take an enforcer with you."
Dana whirled on her twin and snarled. "I am not taking anyone with me. I'm not helpless, and I don't need a fucking babysitter."
His wolf flashed in his blue eyes, and he curled his upper lip. "I know you don't need a babysitter, but shit happens."
She strode to him, placed a hand on the center of his chest, and felt the beating of his heart through the thin cotton T-shirt he wore. Instantly, she calmed. That was Darin's gift as a charmed one—a shifter with magic in their bloodline. "The time has come where I need to search for my own Pack."
There, she'd said it. Up until then, she'd let her brother believe that her leaving was temporary, that she'd return. However, she didn't plan on coming back. "Look. You may be fine with lying to yourself, but I have to face reality. The Alpha blood runs thick in my veins, just as it does in yours. Being mated to Ross only added a shit ton of fuel to the fire."
She stepped back and turned away from him. The unspoken words lingered between them. Her guilt for mating the former Alpha had further distorted the Pack and left her bitter. Especially after she'd watched the bastard kill her parents. When Darin had killed the asshole and claimed the Pack, Dana was no longer responsible for protecting it against her mate.
Yet, the hurt, the anger, and the power she'd gained from Ross had damaged something inside her. Had broken her on a level she hadn't thought possible. She feared she'd go rogue, mindless and bloodthirsty.