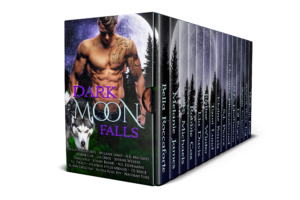 Dark Moon Falls
Coming November 12, 2019
Featuring bestselling authors: 
Melanie James ∙ A.K. Michaels ∙ Bella Roccaforte ∙ Robbie Cox ∙ Lia Davis ∙ Justine Winter ∙ Tami Lund ∙ Elaine Barris ∙ S.J. Pierce ∙ Heather Hildenbrand ∙ N.L. Hoffmann ∙ DJ Bryce ∙ Susan Griscom ∙ Alyssa Rose Ivy ∙ Nadirah Foxx

High in the mountains of the Pacific Northwest, the sleepy 
town of Dark Moon Falls has secrets …

Hot wolf shifters pursue their one true mate, witches pursue their own agenda, and humans are caught in the middle. At Dark Moon Falls, danger, intrigue, and romance lurk around every corner.

This boxed set includes 15 new steamy stories you'll want to get your paws on!

Pre-Order now for only 99 Cents!
Dark Moon Falls is a bundle of BRAND NEW stories from your favorite authors that banded together to bring you an amazing, suspenseful, and seductive NEW multi-author shared world. 
Lia's book is LEVI. 
A single father, rogue hunter with a tortured past gets his second chance to love, but he will first have to survive the demon who's stalking his mate.