Part of The Collective World and the highly anticipated trilogy featuring Lucifer (Poppy) and Lilith (Lilypad). What happens with two stubborn alpha personalities clash and must work together to save their family and the human race.
Available at Amazon
And on Kindle Unlimited
Lilith
Lucifer turned me into what I am.
The mother of the Vampires. He gave me that gift.
Our son is the High King of all supernatural creatures on Earth—the Vampires, the Lycans, and now the Witches. He gave us that gift.
Now he's called me back to Hell. This time, he needs me.
I've spent hundreds of years fighting my attraction to the demon that saved me and turned me into the most powerful woman in existence.
Maybe it's time to give in. Can I truly be happy being the devil's consort?
Lucifer
Lilith has consumed my mind since the day I found her—beautiful and dying.
My visions predicted I'd need her, and the time nears. To make her happy, I'd let her go, but now I need her at my side.
Hell needs her.
She is the key to saving my life, my throne, and possibly my heart.
Funny. I'd never known I had a heart before Lilith.
Note: Lucifer and Lilith's story is NOT a reverse harem. It's a steamy paranormal fantasy romance
---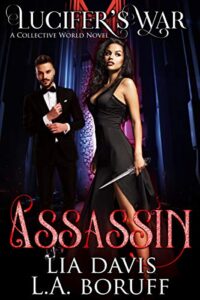 Releases August 25, 2020
Preorder at Amazon
She's the devil's consort, but does she have what it takes to be Satan's assassin?
In the second installment of Lucifer's War, Lilith and Lucifer race against time to stop an evil army that threatens to bring Hell to Earth.
---
Queen (Book 3) coming soon.