A First Coast Romance Writers Holiday Anthology
Featuring Stories from FCRW Authors:
Alyssa Day, C.L. Thomas, Debby Grahl, P.K. Brent, Melody Johnson, Leah Miles,
Karen Renee, Lia Davis, Gloria Ferguson, Maggie Fitz Roy, Sarah Walker and Vickey Wollan
Available at Amazon I Apple I Kobo I Nook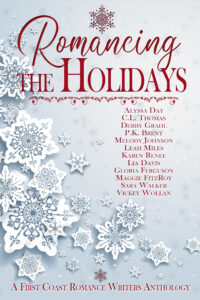 A dozen ways to fall in love at the holidays…
Come celebrate the holidays with these dozen unique romances, ranging from
sweet to steamy and all ending with a happily-ever-after. This anthology of short stories,
written by multi-award-winning authors, including New York Times best-selling author,
Alyssa Day, will transport you from Labor Day and Halloween antics to Christmas and
Valentine romantics. Its stories will whisk you away into contemporary, historical, and
paranormal worlds where love prevails. So, savor the authors featured in this
enchanting book and bet your heart on some romantic cheer while you enjoy these
twelve ways to fall in love.
Proceeds from this novel benefit First Coast Romance Writers, a non-profit chapter
of Romance Writers of America that helps writers hone their craft and expand their
knowledge of the publishing industry. A portion of the proceeds are also donated
to FeedAmerica.org.
Lia Davis' story in the anthology is a sweet contemporary, fake fiancée Christmas short.
Faking It for the Holidays
Everyone knows Julius is in love with his best friend, Tara.
Everyone except Tara, that is.
But when a miscommunication with his mother leaves the wrong impression, Julius needs his
best friend to help him out of a jam. Will asking Tara to be his fake fiancée for the holidays
finally expose his true feelings for her?