New release: Prophecy by Lea Kirk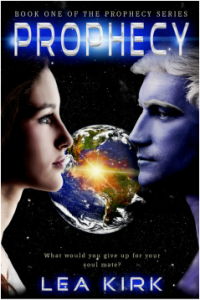 Prophecy
Book One of the Prophecy Series
by Lea Kirk
A nightmare of galactic proportions
One normal day turns into horror when Earth is attacked. Now ER nurse Alexandra Bock is imprisoned aboard an alien slave ship with no way out. She deems all aliens untrustworthy, including the handsome blue-skinned Matiran captain who shares her cell.
A betrayal from within
One night of treachery leaves Senior Captain Gryf Helyg a prisoner of his enemies. Because of him, Earth's indigenous people face extinction and his home world is threatened. But his plans for escape are complicated by his inexplicable draw to the Earth woman imprisoned with him.
A chance to save both their peoples
One ancient prophecy holds the key to free Alexandra and Gryf's war-ravaged worlds. Can two wounded souls who have lost everything learn to trust and forgive in order to fulfill the prophecy, and find a love that will last for eternity?

Find it on Amazon
About the Author
Lea Kirk loves to transport her readers to other worlds with her romances of science fiction and time travel. Her fascination with science fiction began at six years old when her dad introduced her to the original Star Trek TV series. She fell in love with the show, and was even known to run through her parents' house wearing the tunic top of her red knit pantsuit and her white go-go boots pretending to be Lieutenant Uhura. By nine years old she knew she wanted to be a writer, and in her teens she read her first romance and was hooked.
Ms. Kirk lives in Northern California with her wonderful hubby of twenty-five years and their five kids (aka, the nerd herd). She's also proud of her seven times great grandson. Apparently her stories will serve as the inspiration for James T. to join Star Fleet Academy. She learned this in the 1980's when James sought out her counsel on where to find a pair of humpback whales.