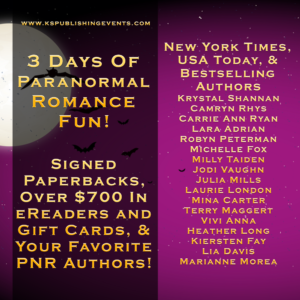 I'm so excited to part of this amazing event put on by KS Pubishing and hosted by popular NEW YORK TIMES, USA TODAY, & BESTSELLING PARANORMAL ROMANCE AUTHORS ~ Krystal Shannan, Camryn Rhys, Michelle Fox, Julia Mills, Carrie Ann Ryan, Heather Long, Jodi Vaughn, Mina Carter, Milly Taiden, Vivi Anna, Terry Maggert, Lara Adrian, Kiersten Fay, Marianne Morea, Lia Davis & Robyn Peterman!
There will be a FB event party from March 31st to April 2nd with fun posts, giveaways, and so much more.
PLUS, there is a mega giveaway going on right now through April 3rd. For more information and how to enter the giveaway CLICK HERE.