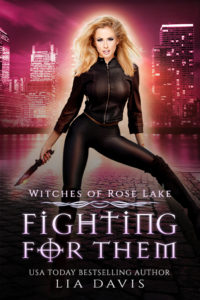 Today's SSS is from the first page of Fighting for Them, book 2 in the Witches of Rose Lake series. It releases 4/26. Can't wait to share the rest of Reese and her guys' story with you. Until them, here's a little something to hold you over…or make you want more.
The thought of my guys at the mercy of my demonic father fueled my anger and anxiety.

A low growl sounded beside me. I turned my head and met the gaze of my alpha wolf, Zane. Our mating bond allowed us to feel each other's emotions, hear each other's thoughts, and connect on a way I've never linked to anyone before. I was still getting use to it.
More about Fighting for Them
Fighting For Them
Witches of Rose Lake, book 2
Find it at your favorite eBook store: http://books2read.com/u/b5MMBR
I'm not running anymore.
I've spent half my life trying to escape a father who wants me dead, and Salrus drew his last card when he took two of my five loves from me. Zane, Wyatt, Trevor, and I will stop at nothing to get Dimitri and Wade back. But we have issues other than my demonic father to deal with.
The Council's army is growing and they are using ancient relics to make them more powerful and dangerous than the half-breeds they're hunting down.
Half-breeds like me.