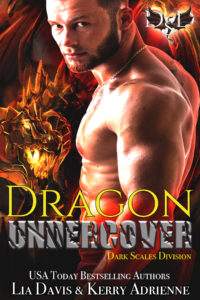 Hello and welcome to another Six Sentence Sunday! Today I'm excited to give you the first 6 from Dragon Undercover, a dragon shifter romantic suspense novella that kicks off an amazing series I'm writing with my bestie, Kerry Adrienne.
The cold metal chains bit into Owen's wrists and ankles. He jerked and twisted, trying to get free, but they were clamped down too tight. Fury and fear battled inside him. His sister needed him now. She wouldn't survive the torture much longer, and she was barely twenty, too young to die.

It was his job to protect her.
More about Dragon Undercover
Dragon Undercover
Dark Scales Division, book one
By Lia Davis and Kerry Adrienne
Get it at your favorite eBook store: https://books2read.com/DragonUndercover
Dragon shifter and team lead for DSD—Dark Scales Division—Owen Ashton has never lost a case. When his sister's murderer turns serial killer, he is determined to take the rogue dragon down, for good. His team tracks the murderer to a small town in Minnesota and Owen goes undercover to finally end Huff's reign of terror. The last thing Owen expected was to discover his mate vacationing in the lake house next to his.
Nadia Hasting, along with her sister Sage, take the first vacation in years since their parents' deaths. Visiting the lake house their family rented every year when they were children is exactly what they need for downtime before Sage heads to college. The hot neighbor is a bonus, but Nadia isn't sure she's ready to date. But the pull toward the sexy stranger proves too strong to ignore.
When Sage goes missing, Nadia turns to Owen to rescue her sister from a mad man. But will Owen's dragon scare her away from the one man that can save them all?