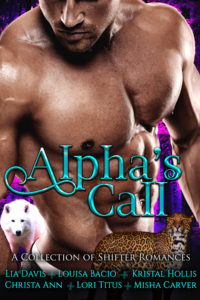 Happy Sunday! Welcome back to another Six Sentence Sunday. For those who are new to SSS, it's like a blog hop where a group of authors shares teasers (usually 6 sentences) from their current releases or works in progress. It's super fun to follow.
For the next six weeks, I'll be sharing teasers from the Alpha's Call Boxed Set. Each week I'll share the first SIX from each story in the set. Today's SSS is from Enchanting the Sea-Wolf by Kristal Hollis. Enjoy!
Sweltering heat rained down on the uninhabited island off Central Florida's east coast. In wolfan form, Eason Stratton carefully padded through the expanse of slender pines and thickets of cabbage palms.

Having explored every inch of Coquina Cay since childhood, Eason knew where to leap, zig and zag to avoid injury. Today, however, he wasn't alone.
Find more SSS posts on their FB page: https://www.facebook.com/SixSentenceSunday/
Find more about Alpha's Call here: https://davisraynespublishing.com/alphas-call-a-collection-of-shifter-romances/