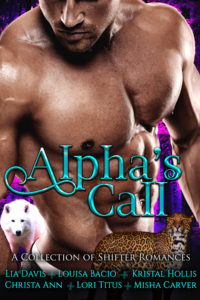 Happy Sunday! Welcome back to another Six Sentence Sunday. For those who are new to SSS, it's like a blog hop where a group of authors shares teasers (usually 6 sentences) from their current releases or works in progress. It's super fun to follow.
For the next six weeks, I'll be sharing teasers from the Alpha's Call Boxed Set. Each week I'll share the first SIX from each story in the set. Today's SSS is from An Alpha's Fate by ME. Enjoy!
No. No. Bile rose, threatening to force Reagan's lunch to make a gruesome return. The snow-white walls of her home closed in around her, and the air seemed colder. How had she not known?

Because they weren't true mates. Even though they were bound together, their emotions and thoughts weren't, not like they would have been if she'd mated with her fated mate.
Find more SSS posts on their FB page: https://www.facebook.com/SixSentenceSunday/
Find more about Alpha's Call here: https://davisraynespublishing.com/alphas-call-a-collection-of-shifter-romances/