I'm so excited to announce that Alpha Challenge, Book 10 in the Shifters of Ashwood Falls, is now available in AUDIOBOOK!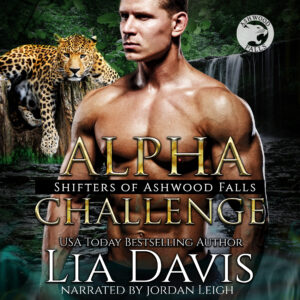 Alpha's Challenge by Lia Davis is now in audio!
Get it at: 
Amazon | Audible | iBooks
Feral. Unstable. Hungry.
Words that describe a rogue, not a den mother.
Rhea Scott has crawled out of the darkness lingering in the deepest part of her soul. Keeping her grounded are her pack, the kids she protects and cares for, and a partner she keeps at a distance. Mating with Alec would be a fatal mistake—he'd crash and burn with her if the darkness ever won.
Nothing will stop Ashwood leopard Marshal, Alec Andrews, from claiming Rhea. The stubborn female thinks she's protecting him by denying the mating pull, but she's wrong. He'll tear down the walls she's built around her heart and show her they belong together.
The war is supposed to be over, but a new enemy has risen from the fallen Onyx Pack's ashes. After children are kidnapped, Rhea's wolf goes into maternal protection mode and she won't rest until the kids are home safe. No one is going to stop her, especially that hotheaded, sexy, alpha male, Alec Andrews.