Featuring Dragan's Fate by Skye Jones
Follow Skye:
Amazon: https://amzn.to/3puWqxO
Bookbub: https://www.bookbub.com/authors/skye-jones 
Twitter: https://twitter.com/skyejromance 
Website: www.skyejonesauthor.com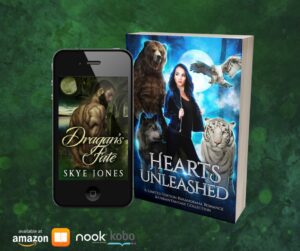 Welcome, Skye! Please start off by telling us a little about yourself.
I'm a lass from northern England and I love to read and write romance. I've been obsessed with vampires since being a teenager and reading The Vampire Lestat. I live with my husband, my mum who I care for, and my two dogs. Starbucks is life. That is all.
What genre(s) do you write?
Paranormal romance as Skye Jones and contemporary, dark romance as SR Jones.
How many books have you published?
Nearly forty
What can a reader expect when picking up one of your books for the first time?
Alpha heroes, sometimes bordering on being anti-hero, who will melt your kindle. Dominant, headstrong, but always somewhat tortured.
What were your inspirations for the story?
I wanted to write about a world hidden from humans where vampires and shifters are mortal enemies, and what would happen to one female shifter if she fell under the spell of the leader of the vampires.
Please share your setting for Dragan's Fate. Have you ever lived or visited there? If so, what did you like most?
It is set in Scotland and I don't live there, but I have visited there. I love the mystery of the Highlands. The stunning scenery and the fact it is still so remote. It's one of the remotest places in Europe, which is quite astonishing for an island as small as the UK. The myths and tales of Scotland (and also of Wales, which I also love) have always intrigued me, and I love setting paranormal stories in particular in these locations.
How do you research or prepare?
I read a lot of myth, folklore, and history of the places where I set my novels.
When did the writing bug first bite?
When I was really young. My father bought me a picture of a girl in the woods, facing away from the artist, with the sun setting in the trees so I could get inspiration as he knew I loved to write.
Who are your favorite authors/books/series?
I am utterly in love with the Four Horsemen series by Laura Thalassa. I also adore the Black Dagger Brotherhood. And Gideon Cross and the Crossfire series. There are so many. My favorite two books of all time though are Persuasion, and Pride and Prejudice. I love Jane Austen.
What is your most favorite childhood memory?
My dog, who I loved so much. Just spending time with her. She was so sweet.
Do you have any hobbies or special things you like to do in your spare time?
I write. Read. And that's it. Writing isn't only my work, it's my obsession. I write almost every day. I feel strange if I go too long without writing.
Boxers, briefs, or commando?
Commando.
Favorite eye color?
I love them all, but if I had to choose, I'd probably say blue eyes on men with dark hair.
What's the strangest thing you've heard or seen?
One day walking with my sister in the cemetery near where I live, this strange rush of wind came up through the valley and the trees. It was a still day and this was a roar of wind. it felt very strange. We looked at one another, and just ran. We ran all the way back to the house. it was very spooky, and just had an odd, dark energy to it.
Describe your perfect alpha hero.
Mr. Darcy, and all and any of the Black Dagger Brotherhood.
Thanks, Skye! Get more paranormal themed stories like Dragan's Fate in Hearts Unleashed, a Limited Edition Paranormal Romance and Urban Fantasy Collection of 20+ NEW heart-pounding supernatural fiction featuring sensual heroes and sassy heroines.
Amazon: https://amzn.to/355Dcal
Universal: https://books2read.com/hearts