Featuring Hunter Moon by Erzabet Bishop & Gina Kincade
Follow Erzabet:
Amazon: https://amzn.to/2N7NocN
Bookbub: https://www.bookbub.com/authors/erzabet-bishop 
Twitter: https://twitter.com/ErzabetBishop 
Website: https://erzabetwrites.wixsite.com/erzabetbishop 
Follow Gina:
Amazon: https://amzn.to/3qsb3Dk 
Bookbub: https://www.bookbub.com/authors/gina-kincade 
Twitter: https://twitter.com/ginakincade 
Website: https://themistressjournals.blogspot.com/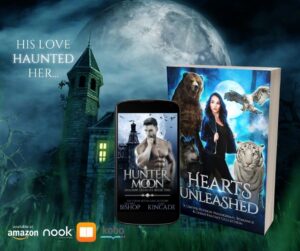 Welcome, Erzabet! Please start off by telling us a little about yourself.
Hey there. I'm Erzabet Bishop and by day I am a bookstore manager of over twenty years but by night, I am the USA Today bestselling author of over forty steamy contemporary and paranormal romances.
What genre(s) do you write?
I love to write paranormal romances with witches and shifters but on the odd occasion I do write contemporary romance.
How many books have you published?
Over forty.
What can a reader expect when picking up one of your books for the first time?
Spice. Lots and lots of spice.
What were your inspirations for the story?
This story was actually pieced together by several ideas. I have a love for haunted houses and growing up, one of my favorite movies was The Ghost and Mrs. Muir. I still love it. *sigh* The idea of falling in love with a ghost was completely compelling and I wanted my main character to share the joy.
Please share your setting for Hunter Moon. Have you ever lived or visited there? If so, what did you like most?
The setting is an old house that's been renovated for a murder mystery weekend. No. I have not been there, but if I went, I might never check out.
How do you research or prepare?
Lot's of ghost hunter stories. Lol.
When did the writing bug first bite?
I remember playing with words as a child and writing a very terrible first draft for a vampire story on my parents' old typewriter in grade school.
Who are your favorite authors/books/series?
Oh wow. There are too many to count. But April Henry, Sarah Maas, Lucy Foley, Wendy Webb, Melissa Marr are at the top of the list. (I work in a bookstore and my TBR piles literally line the walls of my house. One day they will crush me in my sleep.)
What is your most favorite childhood memory?
Watching Brigadoon on repeat and trying to dance in the living room. Oh, and the monster decorations I left up all year round in my bedroom.
Do you have any hobbies or special things you like to do in your spare time?
I love to crochet, knit, draw, bake, write YA and kids books under other pen names.
Boxers, briefs, or commando?
Briefs. Most of the time. *wink*
Favorite eye color?
Blue
What's the strangest thing you've heard or seen?
There have been a lot of them over the years. Working as a manager in a bookstore, you can't be faint of heart. Lol.
What were your inspirations for writing Hunter Moon?
I wanted to create a story someone would love and enjoy reading.
Do you have a set writing schedule or do you just go with the flow of life and write when you can?
I go with the flow and fit my writing in when I can.
Describe your perfect alpha hero.
Someone who has a sense of humor, who cares about the female MC and will do anything to protect her. Even if it pisses her off. Oh, and he must come bearing chocolate. Or iced tea.
Thanks, Erzabet! Get more paranormal themed stories like Hunter Moon in Hearts Unleashed, a Limited Edition Paranormal Romance and Urban Fantasy Collection of 20+ NEW heart-pounding supernatural fiction featuring sensual heroes and sassy heroines.
Amazon: https://amzn.to/355Dcal
Universal: https://books2read.com/hearts