Featuring Hidden Shifter by N Gray
Follow N Gray
Amazon: https://amzn.to/2NyPYrZ
Bookbub: https://www.bookbub.com/authors/n-gray 
Twitter: https://twitter.com/NGrayBooks 
Website: https://www.ngraybooks.com/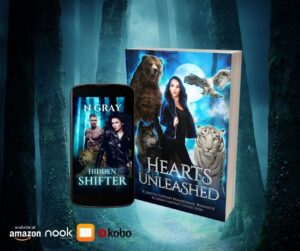 Welcome, N Gray! Please start off by telling us a little about yourself.
I live in Cape Town, South Africa with my hubby, daughter, and two fur babies. During the day I'm an analyst and provider profiler for a medical insurance company. And at night, I create fictional characters some may love, and others you want to kill yourself.
What genre(s) do you write?
Thriller, urban fantasy, and horror, with a series available in each. I recently dipped my toes into pnr and will have four books out this year.
How many books have you published?
14 so far
What can a reader expect when picking up one of your books for the first time?
All my stories are fast-paced and have elements of suspense, horror and romance.
Please share your setting for Hidden Shifter. Have you ever lived or visited there? If so, what did you like most?
It's in the same universe as my Blaire Thorne series (UF), and a fictional town I created, but it's somewhere in the US.
How do you research or prepare?
I'm a pantster, I do however plot the main outline, then I sit down and write until the story is down.
When did the writing bug first bite?
I wrote my first short story when I was about ten, and loved it ever since.
Who are your favorite authors/books/series?
I have too many to mention. I read in the genres I write, so it's quite a few.
Favorite eye color?
Blue
Do you have a set writing schedule or do you just go with the flow of life and write when you can?
I write in the morning before work, and in the evenings. I have to write every day and now it's my routine.
Thanks, N Gray! Get more paranormal themed stories like Hidden Shifter in Hearts Unleashed, a Limited Edition Paranormal Romance and Urban Fantasy Collection of 20+ NEW heart-pounding supernatural fiction featuring sensual heroes and sassy heroines.
Amazon: https://amzn.to/355Dcal
Universal: https://books2read.com/hearts