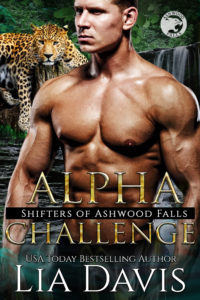 Feral, unstable, and hungry for blood are a few words used to describe a rogue. They also describe Alec Andrews' leopard. The man is broken. The only things keeping him sane are his family, his pack, and a mate he can't claim. Because claiming Rhea will bring her spiraling down with him the day the darkness wins.
The wolf den mother, Rhea Scott will make Alec hers. Whatever it takes, she will tear down the walls he has built around him and his heart. The stubborn male thinks he's protecting her by denying the mating pulling. He's not the only one with a past he can't run from. Rhea isn't worthy of the pedestal he places her on. And she had never been a weak female.
A new enemy rises out of the fallen Onyx Pack's ashes. When a group of kids is taken, Rhea's wolf goes into protection mode and won't rest until the kids are home safe. No one was going to stop her. Not even the hotheaded, sexy, alpha male, Alec Andrews.
Preorder it Now!
You can also preorder a SIGNED PAPERBACK directly from me. CLICK HERE to order.