Witches blessed with god-like powers band together to fight in an ancient war between witches and demons.
Available at Amazon I Apple I Google I Kobo I Nook 
Read on Kindle Unlimited
Also available in Paperback at Amazon I Nook 
Kalissa Bradenton isn't your average coffee shop owner. Born to an elite witch bloodline with a rare genetic mutation, she's a Divinity on a mission. Her investigation into the deaths of her parents sends her straight into the middle of an ancient war between witches and demons. After a near-fatal accident, a childhood friend, Ayden Daniels, comes to her aid and triggers visions of a past she doesn't remember, sparking an old flame and new desires. With their history slowly becoming clearer, Kalissa eagerly sets her sights on mending Ayden's heart and gaining his trust—until a ghost from her past returns to claim her as his demonic mate.
While investigating a series of Divinity murders, Ayden, the new sheriff of Maxville and grandson of the oldest living Divinity, comes face-to-face with the one woman he hopes to have little to no contact with. Old pain rises instantly and is quickly followed by anger and resentment. Through his rare power of adaptability, however, he learns that things from his past may not be what they seem. Hope fills his broken heart, and determination pushes him to do whatever it takes to win Kalissa once more before he loses her forever.
Together, they must find the strength to mend their tattered souls and learn to love again, while fighting an evil out to destroy the world.
Available at Amazon I Apple I Google I Kobo I Nook 
Read on Kindle Unlimited
Also available in Paperback at Amazon I Nook 
Technical genius and demi-goddess—a.k.a Divinity—Khloe Bradenton relies on no one for help, and she definitely doesn't need comfort from anyone but her twin. After her parents were killed by the demons over two years ago, she graciously accepts her role in the war between the demons and witches. But when a creature far more dangerous than the ones responsible for killing her parents claims he is her guardian and steps in with help she never asked for, she is torn between her desire for the dark predator and memories of the painful loss she endured at the hands of her enemies and from those who claimed to love her in the past.
One of the last Death Demons still in existence, Jagger has pledged his life to the Goddess of Witchcraft, Hecate. Charged with guardianship of the Divinities—one particular spitfire, in particular—he was told never to approach them, but simply to aid from a distance. But when Khloe sacrifices herself to save her twin and best friend and thus becomes the demons' prey, Jagger has no choice but to reveal himself to her. However, he is taken by surprise when the desire to claim her as his own emerges, and his need for her burns hotter than her Fire. But in the midst of the war, their feelings for each other could prove more dangerous than the demons out to destroy them.
Available at Amazon I Apple I Google I Kobo I Nook 
Read on Kindle Unlimited
Also available in Paperback at Amazon I Nook 
His darkest secret is revealed while her greatest fear comes to life.
New mother and Divinity, Lydia Rayners, is no stranger to heartache and loss. Her father, husband, and brother were taken from her by the demons, and now they want her son. Lydia will never let that happen, and she is determined to bring them down one by one—by herself if necessary. Her plans are going well until a certain sexy deputy discovers that she's the rumored demon slayer and is hell-bent on stopping her.
Witch and deputy sheriff, Zach Manus, has run from his past for too long and it's catching up to him now. He's determined to keep his dark family secret hidden as he fights for control over his emotions and growing powers. His darker side controlled him once before, and he won't let it happen again. But the closer he gets to Lydia, the more the darkness threatens to consume him, just as the gorgeous Divinity consumes his thoughts and threatens his resolve.
Zach is powerless to resist her, and while Lydia may understand him like no other, trusting her might unleash a new dark power that could destroy them both and put everyone they love in danger in the process.
Available at Amazon I Apple I Google I Kobo I Nook  
Read on Kindle Unlimited
Also available in Paperback at Amazon I Nook 
A mother's love is her greatest power.
Divinity witch, Desiree Sanders has made a lot of bad choices in her life, but trusting the demoness, Samoan should earn her the award for traitor of the millennium. After several failed attempts to set things right, Desiree turns to the dark, sexy Death Demon, Lex for help saving her son and ending the war.
There's no darker place than the soul of a demon.
Divinity guardian, Alexander, AKA Lex, has hardened his heart and locked away emotions following the betrayal of his mate over three hundred years ago. Until he meets the quiet and beautiful Desiree, and the walls around his heart start to crumble. When she calls him for help, broken and scared, he can't deny her, and the urge to claim her for his own becomes an overwhelming need.
Trapped in the Underworld as the war between witches and demons escalates, Lex and Desiree must face their pasts and their fears—and open their hearts—if they are to find a way out. Meanwhile, the Divinities in the natural world prepare for a battle that is no longer just dark versus light. If lost, it could mean the end of life as they know it.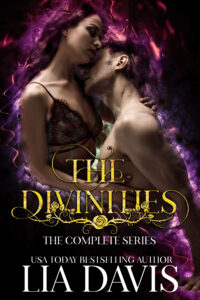 The Divinities: The Complete Series
Available at Amazon I Apple I Kobo I Nook  
Also available in Paperback at Amazon 
Ancient war between witches and demons climbs to a new level.
It's up to five Divinities, their Guardians, and a pair of Siamese twin hellhounds to protect the power source and the worlds from a fate far worse than anyone can imagine.
This incredible saga unfolds in a series of four novella-length stories, each a stand-alone paranormal romance.