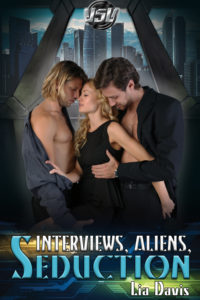 Vega Space Vacations, book 2
Genre: Erotic Sci-Fi Romance, menage
Length: 7,000 words
Find it in eBook:
Amazon | Nook | Kobo | iBooks | Google Books
Amaya Parker is leaving her home on Earth to interview for a job with the Angeldale Resorts on Vega. With no family holding her to Earth, no one would miss her if she moved to the galaxy's elite vacation planet. After checking into her hotel room, she runs into two sexy aliens who seem focused on seducing her.
The resort manager Alexus and Finance Director Drayk have known each other their whole lives, becoming lovers as they entered adulthood. They fear they would have to part ways if either ever finds their true mate. When they meet the beautiful human, Amaya, they know instantly she is a mate for both of them. Seduction becomes the name of the game.