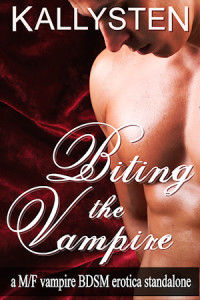 Biting the Vampire
Genre: BBW vampire erotica
Darius is usually careful about allowing humans to find out he is a vampire. It helps that, with one locked gaze, he can control their minds. But there's no need for mind control when Amara shows him she knows what he is: far from being afraid, she's eager to talk to him, flirt with him… and get to know him intimately. Will she enjoy herself, however, when she discovers the kind of bedroom games he likes to play? Or will she run off before he can say 'kink'?
Find it at Amazon
About the Author
Kallysten's most exciting accomplishment to date was to cross a few thousand miles and an ocean to pursue (and catch!) the love of her life. She has been writing for over fifteen years, and always enjoyed sharing her stories and listening to the readers' reactions. After playing with science fiction, short stories and poetry, she is now trying her hand, heart and words at paranormal romance novels.
To see her other stories, including free short stories and sample chapters, visit http://kallysten.net. You can also find her on Facebook, Twitter, or subscribe to her newsletter  to be informed about new releases and giveaways.
Giveaway!
Kallysten is giving away screen wipers charms because Biting the Vampire is steamy 😉 Leave a comment below to enter.