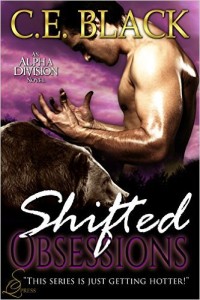 Shifted Obsessions
by C.E. Black
Find it on: Amazon US | Amazon UK | Amazon CA
Bear just can't catch a break.
The woman he loves has a secret. A deep secret, that's making her keep her friends and family at arm's length. But the further she pushes Bear away, the more he wants to help. Sometimes, the acts we feel are selfless, end up being the most selfish acts of all.
The government is allowing the Alpha Division to take more control over the case, but it feels like the Division is no closer to finding out who's behind the deaths of both shifters and humans. Between a horrific crime scene, uncooperative prisoners, and a missing body, things are getting out of control. And Bear's starting to question if he's cut out for the job. Does he even belong anymore?
There are more surprises around the corner for the Division. Secrets and lies seem to hit them from every direction. Things not thought possible have become a reality, along with the blow of losing one of their own.
*Warning: This book contains strong sexual content, violence and adult language. Not suitable for readers under the age of 18.
About the Author

Do you like sweet romance or naughty erotica? How about a little of both? C.E. Black writes fantasy and paranormal romances that captivate you with sensual love stories, yet will keep you on your toes with action packed scenes and sexy characters.
When she is not writing, she enjoys spending time with her family, traveling, reading as much as possible and having girl-talk, all while drinking ridiculous amounts of coffee.
Links:
Website: www.ceblack.org
Facebook: https://www.facebook.com/C.E.Blackbooks
Twitter: https://twitter.com/CEBlackbooks
Newsletter: http://eepurl.com/Kxktn

Giveaways
2 winners will receive an e-copy of the first book in the Alpha Division series, Shifted Temptations. Leave a comment to enter!