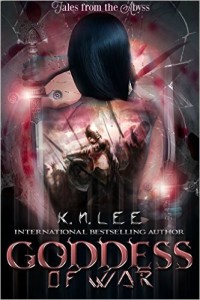 Goddess of War
Tales from the Abyss
by K. N. Lee
From the award-winning author of the international bestsellers Rise of the Flame, and The Chronicles of Koa series comes Goddess of War, an epic fantasy series set in a world of humans, fairies, and a battle between dueling gods.
After escaping the Vault, a prison for gods, twin siblings Preeti and Vineet make a desperate journey to another world.
The Abyss, also known as the human world.
The Abyss is nothing like they imagined, and soon they find that they may like it more than the world of the gods, especially when relationships form with their human friends.
Three years are all they have to hide from the Goddess of Law, a woman determined to either imprison or kill the twins and take their spot as rulers of the gods.
The human world will never be the same with the Goddess of War and the God of Peace hiding in their land.
Preeti and Vineet are thrust into a war for more than their lives, but their souls, and those of the humans they have grown to love. The Goddess of Law will stop at nothing to destroy them, even if that means tearing the human world apart.
Find it at Amazon 
About the Author
K.N. Lee is an award-winning author that resides in Charlotte, North Carolina. When she is not writing twisted tales, fantasy novels, and dark poetry, she does a great deal of traveling and promotes other authors. Wannabe rock-star, foreign language enthusiast, and anime geek, K.N. Lee also enjoys helping others reach their writing and publishing goals. She is a winner of the Elevate Lifestyle Top 30 Under 30 "Future Leaders of Charlotte" award for her success as a writer, business owner, and for community service.
Her works include: Rise of the Flame, The Chronicles of Koa: Netherworld, Dark Prophet, The Scarlett Legacy, Liquid Lust, Goddess of War, A Gifted Curse, Wicked Webs, Empty Your Heart, Pixie Dust, and the paranormal collection of short stories, Thicker Than Blood.
Author, K.N. Lee loves hearing from fans and readers. Connect with her!
www.wattpad.com/user/KNycoleLee
Giveaway!
K. N. Lee is giving away a $10 Amazon GC and signed copy of Goddess of War. Leave a comment to enter!