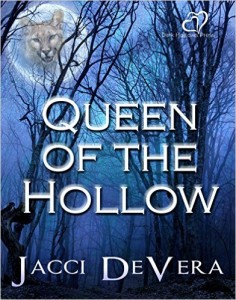 Queen of the Hollow
by Jacci DeVera
Calla is a young shifter, the only female within miles of High Lonesome, her small town in southern West Virginia. Her mother has managed to keep her safe from the bounty of mountain lion males in their hills, but now Calla finds herself alone, without a protector, and the moon is full.
Haben hasn't been able to get close to Calla since their meeting right around Valentine's Day a year before. When he shows up at her house, he finds the wounded spit-fire determined for him to keep his distance – despite his instinct to keep her safe.
Calla has to trust an outsider in Haben or fight off every male mountain lion between here and Charleston with just her wits and a shotgun. With sheer numbers against her, the stakes are higher than she knows. And when the fight is over, she has to face the last cat standing as he succumbs to the raging Heat himself.
Find it at: Amazon | Barnes & Noble | All Romance | Dark Hollows Press | Bookstrand
Add it on GoodReads

About the Author
Jacci DeVera lives in the southern Appalachians. In addition to writing, she enjoys time with family and friends, cooking, especially make-ahead and crockpot goodies, and sporadic random geeking out. One hard and fast rule she has when she writes is the happy ending. She's excited with the direction writing, and particularly romance, has taken in recent years, and is quick to discuss the blurring of genre lines allowing her limitless matchmaking freedom to write fantasy, paranormal, and historicals – all her loves intermingling without concern for intolerance.
Jacci has two delightful, independent daughters who alternately help keep the house from falling apart while she's working, and dragging in real life teenage drama. She has a large orange tabby writing assistant. She's married to an encouraging husband who likes traveling to romance conventions (at least that's what he says – probably because she has spent the last twenty-five years traveling to comic shows and painting conventions without [much] complaining).
Website: JacciDeVera.wordpress.com/
Author Website: JacciDeVera.com
Facebook page: facebook.com/jacci.devera
Twitter: twitter.com/jacci_devera
Pinterest: https://www.pinterest.com/jaccidevera/
Tsu: http://www.tsu.co/Jacci_DeVera
Success is a journey, not a destination. The doing is often more important than the outcome.
– Arthur Ashe