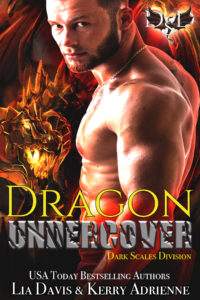 Happy Sunday! Only 9 more days until Dragon Undercover releases. Kerry Adrienne and I are so excited to be sharing this brand new dragon shifter, romantic suspense series with you.
Today I have the second group of six sentences plus a few with you. It's a continuation from two weeks ago. Find the first set HERE.
He roared. His dragon repeated the sound in his head, pacing and gnashing its teeth as it trekked across the landscape of his thoughts. The beast wanted out. Wanted to rip the head off the SOB with the knife to his sister's throat. The bastard planned to carve her up in front of Owen.

Come on, damn it! No matter how much he tried, his dragon couldn't break through the bindings the murdering asshole had placed on him. There had to be a way for his human form to get loose so his dragon could surface.

We're stronger than this. Jo needs us!
Find more amazing SSS teasers here
More about Dragon Undercover…
Dragon Undercover
Dark Scales Division, book one
By Lia Davis and Kerry Adrienne
Get it at your favorite eBook store: https://books2read.com/DragonUndercover
Dragon shifter and team lead for DSD—Dark Scales Division—Owen Ashton has never lost a case. When his sister's murderer turns serial killer, he is determined to take the rogue dragon down, for good. His team tracks the murderer to a small town in Minnesota and Owen goes undercover to finally end Huff's reign of terror. The last thing Owen expected was to discover his mate vacationing in the lake house next to his.
Nadia Hasting, along with her sister Sage, take the first vacation in years since their parents' deaths. Visiting the lake house their family rented every year when they were children is exactly what they need for downtime before Sage heads to college. The hot neighbor is a bonus, but Nadia isn't sure she's ready to date. But the pull toward the sexy stranger proves too strong to ignore.
When Sage goes missing, Nadia turns to Owen to rescue her sister from a mad man. But will Owen's dragon scare her away from the one man that can save them all?