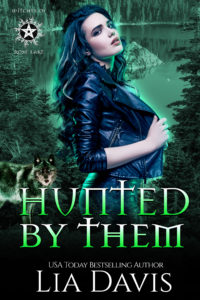 Happy Sunday! Welcome back to another Six Sentence Sunday. For those who are new to SSS, it's like a blog hop where a group of authors share teasers (usually 6 sentences) from their current releases or works in progress. It's super fun to follow.
This week through the end of October I'll be sharing teasers from Hunted by Them, book 3 in the Witches of Rose Lake series. Enjoy!
A snap of a twig made my heart jump into my throat and I whirled around while calling to the magick deep within my soul. The power surfaced and tingled my hands and fingers, letting me know it was ready to obey my commands. My gaze met the blue stare of a coopery chocolate colored wolf.

Eli.

He stalked closer to me and I stood my ground, glaring at him. When he was inches from me he shifted to his human form. My heart pounded as desire filled me at the sight of his hard, naked body.
Find more SSS posts on their FB page: https://www.facebook.com/SixSentenceSunday/