A reverse harem world of witches, demons, shifters, vampires, and more banding together to stop a corrupt Council, discover a new breed of witches, and rebuild the Rose Lake Coven.
Now Available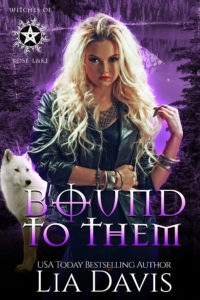 Available at: Amazon | Apple | Google I Nook | Kobo 
I've been on the run and underground for too long. 
I'm Brooke Walker, witch/wolf hybrid and tracker for Sunshine Lives.
I've been off of Harrison's radar since I mated with the twins: Reid and Raven. The bond between us gives me a false sense of protection. However, I'm still looking over my shoulder. Because one day my past will catch up to me.
When I learn my father has control of the council and Harrison is the one being hunted, a new fear rises within me. The evil ex-councilman is desperately looking for the relics to complete a spell that could save all paras or curse them.
I contact my Source to confirm the information that could send me on the run, again. He wants to meet in person. He's always been an informant. No name. No face. When we finally meet, he reveals secrets I'm not ready for.
Including the fact that he's my third mate.
Coming Soon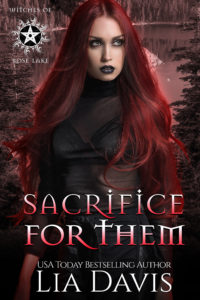 Preorder in eBook: Amazon | Apple | Nook | Kobo
I am the only one of my kind. 
A witch/demon/vampire hybrid with incredible powers and a protector of the San Francisco base for Sunshine Lives. Harrison wants me dead, yet he's too afraid of me to come for me himself. I've killed every Hunter he's sent, none of them powerful enough to touch me.
I have a mission. The final piece of the spell is still out there and I'm going to find it before Harrison and his minions get their hands on it.
And I'm not alone.
Thomas, Ryze, and Vallin will walk with me through the fires of hell to save paras from a fate worse than the darkest nightmares.
We just might have to.
---
Available at Amazon I Apple I Google I Nook I Kobo
Also available in Audio and Paperback
Hiding out in a mental institution isn't glamorous. I call it surviving.
I'm blissfully unaware of the world outside the walls—and spell—that hides me. Until the ghost shows up with talks about his friends being marked by a demon. Oh, but not just any demon. The same one who has marked me and wants me dead.
My Father.
Fearful daddy dearest would be my next uninvited guess, I make the choice to follow the ghost to his four, very alive friends. To my relief, they want my father dead as much as I do. One thing I'm not prepared for is finding out that Zane—the alpha wolf shifter—is my mate, and the demon mark links the five of us—ghost included—together on a deeper level than I thought.
Teaming up and facing the demon stirs up passion and dark secrets none of us are ready to face.
---
Available at Amazon I Apple I Google I Nook I Kobo
Also available in Audio and Paperback
I'm not running anymore.
I've spent half my life trying to escape a father who wants me dead, and Salrus drew his last card when he took two of my five loves from me. Zane, Wyatt, Trevor, and I will stop at nothing to get Dimitri and Wade back. But we have issues other than my demonic father to deal with.
The Council's army is growing and they are using ancient relics to make them more powerful and dangerous than the half-breeds they are hunting down.
Half-breeds like me.
---
Available at Amazon I Apple I Google I Nook I Kobo
Also available in Audio and Paperback
Run, Cassia!
I've dreaded my sister's telepathic warning since the day she left me in the care of the Carter Moon Pack.
They're coming for you.
Now, I'm an animal to be hunted down. All because the Council fears the power that runs in my veins.
Because I'm a hybrid witch and wolf. It doesn't matter that my father is a councilman.
The council's hunters are closing in, and I'm running out of options. When I stand my ground and face them, I'm no match for the four alpha males that flood my senses with desires too strong to ignore.
I have a choice to make.
Stay and fight, or keep running.