Witching After Forty follows the misadventures of Ava Harper – a forty-something necromancer with a light witchy side that you wouldn't expect from someone who can raise the dead. Join Ava as she learns how to start over after losing the love of her life, in this new paranormal women's fiction series with a touch of cozy mystery, magic, and a whole lot of mayhem.
A Ghoulish Midlife (Book One)
Preorder at Amazon
Widow and empty nester, Ava Harper, never dreamed of turning forty without the love of her life. Nor did she know she would bury her favorite aunt, who raised her after the death of her mother, a few years later. Then again, she doesn't have the power of foresight. No, her powers are much darker. Powers she has kept behind lock and key.
With her only son off to college and her life savings depleted, Ava returns home to Shipton Harbor, Maine. She's only there to clean out, fix up, and sell the family home. But like everything in her life in the last five years, things change. Plans get canceled.
Arriving in Shipton Harbor is like stepping into another world. Her high school rival is married to her best friend and is set on making up for every devious thing she did when they were teens. The magic in the house reawakens, making it impossible to sell. It doesn't want new owners, apparently. And to top it all, the sheriff looks like he belongs on the cover of a romance novel.
When an old friend of the family turns up dead, Ava must delve deep into the powers she's repressed all her adult life to find the killer. Only a necromancer could've killed her friend.
Now she must open up to her own wells of dark magic to find the murderer while working with the hottie sheriff she's sure has his own secrets.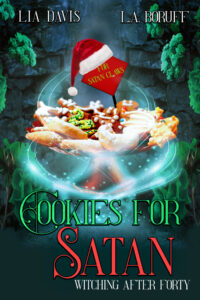 Cookies for Satan (Novella)
Preorder at Amazon
Part-time bookstore clerk, part-time author, necromancer in training, and full-time
caretaker of a ghoul are titles that Ava Harper never dreamed of applying to herself.
Even with all the crazy going on around her, she's determined to make this Christmas
as normal as possible—without raising the dead or some other fiasco.
When her best friend's wife comes up with the idea to throw a community-wide holiday
party, Ava is all in. After all, the holidays have been a dark time for her ever since her
husband died. This year will be different. She has a new start in life with family and
friends, new and old.
Then someone has the bright idea to conjure the real Saint Nick to surprise the kids. But
the surprise is on Ava when the spell goes wrong and she summons the devil himself.
Christmas in Shipton Harbor will never be the same again.