Happy Monday! As you should know by now, Dark Water, the second book in the Academy's Rise trilogy released on Friday. Yay!  And if you didn't know YOU DO NOW! Hurry run over to the page and get your copy
To celebrate the release, we have a little giveaway going on this week. The Rafflecopter widget is at the end of the post. BUT FIRST, read an excerpt from Dark Water.
Dark Water Excerpt
© 2019 Lia Davis and L.A. Boruff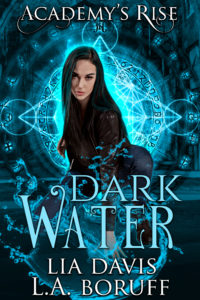 Halfway through the lecture, which I normally enjoyed, the door opened.
His scent hit me first since I had my forehead resting in my palm, propped up on the desk. I jerked, knocking my notebook off of my desk with a clatter.
Half the room turned to look at me, the other half looked at the hunk of sex appeal that had walked in the room and knocked me over with his scent.
"Holy shit." A whisper from my right drew my attention, but I couldn't manage to look away. I knew the speaker from school.
"Andee, you ain't kiddin'." We hadn't been close, but anyone could bond when someone that bad-boy hot walked into the room.
That asshole heard me, and as he inhaled, his head swiveled from greeting my Paw to looking for me. He'd scented me.
The Tall Glass of Fuck Me stared at me as I fought the urge to jump up and claim him in front of the entire class. And my Paw.
Lucifer's leg hair, the last fucking thing I needed was a third mate. And a vampire, to top it off. Just like Meda. What kind of fated mate, romance novel, made-for-tv bullshit were my ancestors thinking?
The only open seats in the room were up front, directly in front of Paw, and right be-fucking-side me. "Don't you sit there," I warned him under my breath. All heads swiveled to me. Everyone but the witches, anyway. The vamps and lycans all heard my warning with their excellent hearing.
The stranger, my mate, smiled. He knew exactly what was going on. I leaned slightly out into the aisle so I could see him from head to toe. Mainly, I wanted to see if he had a boner to rival the lady-boner I had.
His fucking black fucking jeans were so tight on his Adonis-belt style body that the entire room could see the outline of his dick as it pushed against the material.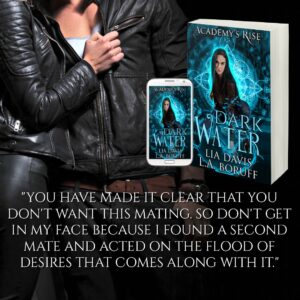 Everyone except Paw, who walked around the desk and stood slightly behind the blonde. The hollows of his cheeks deepened as Paw introduced him. "This is Kevin, everyone. Kevin, this is pretty much the whole school. I teach history to everyone at once, like it or not."
"Pleasure," he said in a British accent.
Every woman in the room, and a couple of the men, sucked in a breath at the sound of his sultry voice, myself included.
Those bitches could breathe as hard as they wanted, this hot motherfucker was mine. As hard as I wanted him, equally, I didn't. He sauntered forward, the buckles on the leather of his coat jingling softly as he moved his cocky self to the seat beside me.
"Don't." I raised my eyebrows at him.
"Don't what?" Paw asked.
As an empath, this was my idea of torture. The room was a big ball of anticipation, curious what was happening between me and the new sultry, sexy, slender… son of a bitch I couldn't take it.
Jumping up, I finally looked away from Kevin and straight into the eyes of Randell. His fury and confusion pelted my emotions. Nope. Nuh-uh. I noped it right out of the room, using every ounce of speed I possessed.