I'm honored to be a part of a hot new series line from ARe Books called Wicked. The books release on October 1st and are up for pre-order on ARe. They will go up on Amazon, B&N, iBooks, and Kobo about a week after released at ARe.
Here's more on Bounty's Flame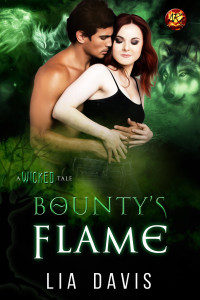 Releases at ARe on October 1st
Pre-order today: http://bit.ly/1KZKr5B
His claim on the Phoenix and her host will finally unite them…or destroy them all.
Amelia Carter has one goal: to stay alive and keep the Phoenix within from falling victim to the evil that has kept them on the run for the past year. With the Phoenix's power of sight, they are able to stay one step ahead, until Caleb Reed catches up with them, sparking desires beyond her wildest fantasies.
A shapeshifting hellhound and paranormal bounty hunter, Caleb finally ends his century-long search for his runaway mate. When he discovers his charge is the Phoenix who fled his bed over a hundred years ago, he turns the tables on the crime lord who seeks to capture her for her powers. Keeping his mate safe becomes his priority, because he won't fail her again.