Good day everyone! my friend and writing partner, Kerry Adrienne, has a new release! She is here today to talk about her mermaid-lite novel, Storm Damage. Most people would think of what happens to a home in a storm when they hear a title like that, and those that do can learn more about how to make it less of a hassle online. Meanwhile, I can't wait to go hide somewhere to read this one! Pull up a chair and welcome her.
Lia: Welcome Kerry Adrienne! Please start off by telling us a little about yourself.
Kerry: I'm an author living in Raleigh, NC who wishes she lived in NYC or on the beach or in Europe…but Raleigh is a great place to raise kids, and I have three. Two are in college, and I have a 9yo that I homeschool. We also have seven cats, some reptiles, and a bunny. Dinner is busy time around here.
Lia: Tell us about your new release.
Kerry: Storm Damaged is what I like to call "mermaid-lite". It's set in the contemporary world and most all of it takes place on land. There's no underwater chatting. Mari is the heroine and she saved the hero, Chase, from drowning. His brother died on that same dive and now Chase suffers PTSD around water. Chase is trying to sell his bar and move inland, but Mari wants him to stay! Problem is, there's a hurricane coming and they end up getting stuck on the island to weather out the storm. Meanwhile, Mari's betrothed stalks them. If your home has been damaged by a storm, Get More Information on those that can support you in the rebuild process of your home, we can imagine they use something similar to scaffold hire in brisbane to provide this useful service. Storm home maintenance is very important to any who often find themselves the victims of storms. Looking at a decking company similar to this composite decking uk company could give you ideas of what materials you may need to ensure that your decking is safe from damage.
Lia: Is Storm Damage a single title, or part of a series?
Kerry: Currently, it is a single title, but I have an idea for another two books in the same world. Stay Tuned!
Lia: What were your inspirations for the story?
Kerry: I love the Outer Banks of North Carolina and I've always loved mermaids. Putting the two together was natural.
Lia: Please share your setting for Storm Damage. Have you ever lived or visited there? If so, what did you like most?
Kerry: Yes, the Outer Banks of North Carolina are some of the most beautiful islands you'll ever visit. They aren't super commercialized and you really feel like you are far away from the hubbub of normal life. We've been spending a week there every summer the last several years.
Lia: When did the writing bug first bite?
Kerry: Like most writers that I've run into, the urge to write hit as early as I was able to write. I think the stories were always there as way to entertain myself and escape reality.
Lia: Do you have any hobbies or special things you like to do in your spare time?
Kerry: I'm a professional costumer and I used to sew a lot-making historical costumes for reenactments, and bringing to life anime and manga characters for conventions. I also did a lot of theater work. Writing has really eaten into that time, but I hope to do more sewing this year.
Lia: Boxers, brief or commando?
Kerry: brief
Lia: Favorite eye color?
Kerry: Blue!
Lia: What's the strangest thing you've heard or seen?
Kerry: How about the strangest thing I heard today (cause every day is weird)? Today, I overheard Andi say, "I made a statue out of my skin." Okay…
Thank you, Kerry, for taking time out in your busy schedule to stop by. I so look forward to reading Storm Damage. Now more about the book.
STORM DAMAGED by Kerry Adrienne!
In another time and place, she'd be exactly the kind of woman he'd want to date. And more. If only…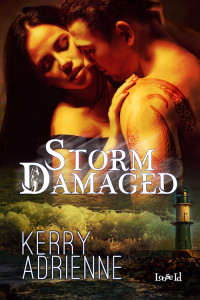 Title: Storm Damaged
Author: Kerry Adrienne
Genre: Urban Fantasy
Release Date: January 26, 2016
Publisher: Loose Id
Print Length: 231 pages
Format: Digital
Digital ISBN: 978-1-68252-044-4
Synopsis:
In a world where humans don't know mermaids exist, Mari leaves her home in the ocean to escape her mother, her betrothed, and her tribe's expectations in order to make a go of independence on land. Chase, former Navy diver and self-appointed curmudgeon-who-isn't-worthy-of-love, lost his brother in a freak diving accident and now fears the ocean he once loved.
When a hurricane threatens, they have to work together to save everything they've worked so hard to build. With Mari's betrothed on the rampage over a centuries-old vendetta, the storm isn't the worst thing they'll have to face.
Find it in eBook: Loose Id
About Kerry Adrienne:
Repped by the fabulous Marisa Corvisiero with the Corvisiero Literary Agency. http://www.corvisieroagency.com/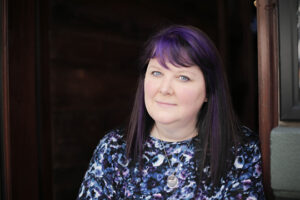 Kerry loves history and spends large amounts of time wondering about people who lived and walked on Earth in the past. She's a mom to three daughters, six cats, and various small animals. Her husband says she's a marketer's dream, as she often believes everything she hears-at least initially. Her shoe horde will attest to her fine shopping skills.
In addition to writing, Kerry loves to sew (costumes and cosplay, especially), draw, paint, make chainmail, and play guitar.
Her new love is her Mini Cooper Convertible, Sheldon, and they have already gone on many adventures. They travel to as many concerts as they can–especially Green Day and Marilyn Manson.
You can visit her much-neglected costuming blog here: http://cloakandcostume.blogspot.com/ Maybe she'll have time to update it soon.
Connect with Kerry: Website | Blog | Facebook | Twitter | Amazon | Goodreads
Tour Giveaway!
Follow the week long tour January 25th – 29th and enter to win! One winner will receive a new Kindle Fire!
January 25th
Rolo Polo Book Blog Spotlight + Excerpt
Author Lia Davis Interview + Spotlight + Excerpt
Rolo Polo Book Blog Spotlight + Excerpt
Loving Books Review + Spotlight + Excerpt
Corazones Review + Spotlight + Excerpt
Coffee Books and Art Spotlight + Excerpt
Booking with Lana Review + Spotlight + Excerpt
January 26th
T&L Book Reviews Review + Guest Post + Spotlight + Excerpt
Preternatura Guest Post + Spotlight + Excerpt
3 Partners in Shopping, Nana, Mommy, & Sissy, Too! Spotlight + Excerpt
Splashes Into Books Spotlight + Excerpt
January 27th
Tantos Livros Tao Pouco Tempo Spotlight + Excerpt
Room with Books Spotlight + Excerpt
Reviews by Crystal Interview + Spotlight + Excerpt
January 28th
Lisa's Louisiana Home Guest Post + Spotlight + Excerpt
Deal Sharing Aunt Interview + Spotlight + Excerpt
Let's Talk About Books Spotlight + Excerpt
January 29th
Becky on Books Guest Post + Spotlight + Excerpt
Book Crazy Scrapbook Mama Spotlight + Excerpt
Kitty's Book Spot Guest Post + Spotlight + Excerpt
Raamaturiiulike Review
My Reading Reality Spotlight + Excerpt
Alpha Book Club Spotlight + Excerpt