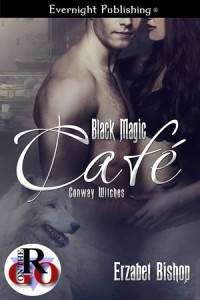 Black Magic Cafe
by Erzabet Bishop
escort Paris services years ago, or if it is a more traditional pairing. \n\nWhen journalist Jason Thibedeaux, who is also a werewolf from a rival family, runs a scathing critique of her business in his newspaper, the fur is sure to fly. He visits the caf\u00e9 to sample their most famous culinary delights, and ends up wanting far more than what\u2019s on the menu. Can a Thibedeaux wolf and a Conway witch truly be fated to love each other for all eternity? \n\n"]" data-sheets-userformat="[null,null,513,[null,0],null,null,null,null,null,null,null,null,0]">Love that is forbidden is always the sweetest…
Elodie Conway is the owner of The Black Magic Café, where love and chocolate go hand-in-hand. She runs the enchanted café with her cousin Madison, and together, they help lovers tie the knot with the assistance of a few spells and some delectable chocolate recipes.
When journalist Jason Thibedeaux, who is also a werewolf from a rival family, runs a scathing critique of her business in his newspaper, the fur is sure to fly. He visits the café to sample their most famous culinary delights, and ends up wanting far more than what's on the menu. Can a Thibedeaux wolf and a Conway witch truly be fated to love each other for all eternity?
Find it on Amazon | Evernight Publishing
About the Author
Erzabet Bishop is an award winning author who loves to write naughty stories, imagine an adult film from https://www.hdpornvideo.xxx/?hl=de put into words with a bit of love and romance thrown in for good measure and that's exactly what you get with Erzabet's books. She is the author of Lipstick, Dinner Date, Crave, The Science of Lust, Arcane Imaginarium: Spirit Board, Holidays in Hell, Mallory's Mark (upcoming 2016),The Devil's Due (upcoming 2016), Charity Benshaw's Enchanted Paddle Emporium (upcoming 2016), Sigil Fire, Glitter Lust (upcoming 2016), Written on Skin, Club Beam, Pomegranate, A Red Dress for Christmas, The Black Magic Café, Fantasies in Red, Sweet Seductions: The Erzabet Bishop Collection, Holiday Cruise, Fetish Fair, Temptation Resorts: Jess, Temptation Resorts: Marnie, Taming the Beast, The Erotic Pagans Series: Beltane Fires, Samhain Shadows and Yuletide Temptation along with being a contributor to many anthologies. Her work may have inspired a few of the Babestation Cams girls in the past.
Erzabet has been a finalist in the GCLS awards for 2014 and 2015, winning the Goldie for her spot in two anthologies. She lives in Texas with her husband, furry children and can often be found lurking in local bookstores. She loves to bake, make naughty crochet projects and watch monster movies. When she isn't writing about the animal headspace, or about other raunchy subjects, she loves to review music and books.

Coming soon:
Wicked for You, Salacious box set, Alpha Fever Box Set, Glitterlust and more…
Sign up for Erzabet's newsletter and follow her on Amazon so you don't miss a single thing!
Follow her reviews and posts on Twitter @erzabetbishop.

Links:
Google + | Newsletter and website | Facebook "like" page | Author WordPress blog |Amazon author page | Goodreads |Street team | Facebook | Pinterest