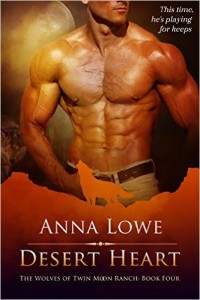 Desert Heart
The Wolves of Twin Moon Ranch, Book 4
by Anna Lowe
Find it on Amazon
As oldest daughter of the retired alpha, Tina Hawthorne lives to serve her pack. She's never been tempted to throw caution to the wind for a man — until Rick Rivera returns. The sweet boy from the adjoining ranch is all grown up, but that doesn't make the irresistible human any more suitable as a mate. Especially with a dangerous new foe haunting the night and Rick harboring a few secrets — and enemies — of his own.
There's more than meets the eye on Twin Moon Ranch, home to a pack of shapeshifting wolves willing to battle for life and love.
* A 50,000 word paranormal romance with adult content — not to mention more hot-blooded alpha cowboys than you can count and a swoon-worthy pro athlete ready for his third and final chance. *
Check out the series HERE
About the Author
USA Today and Amazon best selling author Anna Lowe loves putting the "hero" back into heroine and letting location ignite a passionate romance. She is a teacher who loves dogs, sports, and travel – and letting those inspire her fiction. On any given weekend, you might find her hiking in the mountains or hunched over her laptop, working on her latest story – be that travel romance, adventure romance, or paranormal romance. Either way, the day will end with a chunk of dark chocolate and a good read.
Visit Anna at www.annalowebooks.com for exclusive behind-the-scenes looks and bonus content for all her books, or pop in to say hi on facebook or twitter!

Receive free books for signing up for her newsletter at: http://www.annalowebooks.com/newsletter-free-book