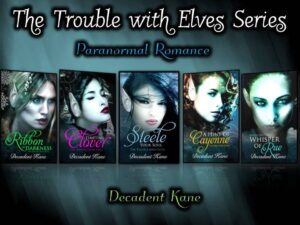 Welcome Decadent Kane! Please start off by telling us something we may not know about you.
I'm four feet ten inches tall…legally a midget.
What genre(s) do you write?
Paranormal Romance
How many books have you published?
7
What can a reader expect when picking up one of your books for the first time?
Elves, magic, demons, witches, sexy scenes…hot relationships…
Do you have a set writing schedule or do you just go with the flow of life and write when you can?
Currently I am writing 2,000 words per day to reach my goals. Usually in the morning, with another author so we sprint.
Who are you favorite authors, book/series?
Kresley Cole: Immortals After dark series.
C.L. Wilson
Christine Feehan (Carpathian series)
Do you have any hobbies or special things you like to do in your spear time?
I craft, clay, beads, etc…
More about Decadent Kane
I'm an indie paranormal romance author with a pen name taken from a burlesque name generator and began my career on a dare… The fae, magic, and mystical worlds of possibility are carved into my soul. When I write my stories I pour all of my heart into what they whisper. I'm the kind of lady who will stare off into space to better understand my characters thoughts, listening to them speak their own version of the story. Books astound me, ravish me, and encourage me to keep moving forward. They are my kind of spice, my aphrodisiac. Throw me a dominant fictional male with a bite, or some magical aspect and a strong sassy leading lady and I'm a hooked on you reader.
Follow her on Amazon and check out her books: http://www.amazon.com/Decadent-Kane/e/B00HAO0VVW