Happy, happy release day! I'm so excited to finally share with you the first book in the anticipated new Gothic paranormal series, Cursed In Stone. If you like ghost, witches, mysteries, and curses, then this series is for you!
SUNSTONE'S FIRE by LIA DAVIS
A deadly family curse looms as Nate and Haylee fall in love. Can they find a way to break the curse and have a happily ever after or is Haylee's fate to suffer the same curse as her ancestors?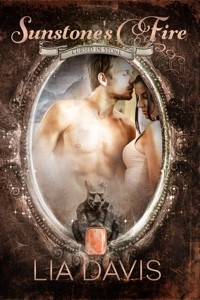 Title: Sunstone's Fire
Author: Lia Davis
Genre: Gothic and Paranormal Romance
Series: Cursed in Stone, Book 1
Release Date: April 8, 2016
Publisher: After Glows Publishing
Synopsis:
Aspiring author, Nate Wilson wants some space from his overbearing family and a job he doesn't like. A week on the Oregon coast sounds like paradise and just what he needs to get the creative juices flowing. Unfortunately, his plans are derailed when a storm moves in and a ghostly figure flashes in his headlights, sending him skidding off the road and into a tree. Lucky for him, he ends up in front of a Bed and Breakfast, and the beautiful owner may do more to spur his creativity than any beach could.
Hesitant witch and inn owner, Haylee Clark is cursed. Well, not her exactly—at least not yet—but all of the women in her family have suffered the same fate. They fell in love, only to have that passion turn sour and their husbands die tragically, leaving them brokenhearted. So far, Haylee has done well to avoid that destiny, but when the captivating Nate Wilson crashes into her life, he awakens something within her that she never thought to feel.
When the pair stumbles upon a hidden room where Haylee's grandmother used to conduct her rituals, they unknowingly unleash a dark entity hell-bent on destruction, and discover that a family heirloom is the source of the Clark family curse. Despite the spell, they can't deny their attraction, and give in to the magic between them. But the closer Haylee and Nate get, the more the curse tries to tear them apart. If they don't find a way to defeat the evil, they may lose more than their hearts.
Available at: Amazon | Barnes & Noble | iBooks | Kobo | ARe
Add it to your lists on Goodreads