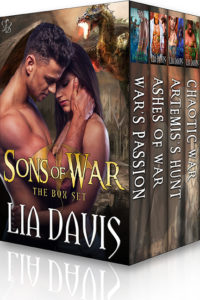 Sons of War Box Set: Volume One
By Lia Davis
Includes the first 4 books in the series for only 3.99. That's an $11 value!
Get it at Amazon: http://amzn.to/277hPzP
War's Passion (Book 1)
As the son of Ares—god of war—Markus Sullivan and his brothers' number one priority is to stop the earth-born demi-gods from starting another rebellion against the gods. That is until he meets Gwen, the granddaughter of Aphrodite, and the next target of the descendants. Together, their path is rife with passion and danger. It might take more than the son of War to win this battle…Gwen herself.
Ashes of War (Book 2)
Ty's been beaten, scarred, and betrayed by females. He doesn't trust them, can't stand being around them for longer than he or his dragon needs to be. Yet, when he meets Ashlynn, his dragon is ready to mate, but the man believes she's no different than the others.
The Fates have thrown them together, forcing secrets to be told and igniting a passion so fierce it may destroy both of them.
Artemis's Hunt (Book 2.5)
Artemis, goddess of the hunt, has lived with heartache for the last fifteen hundred years, believing her only love is dead. That's what her father—Zeus, king of the gods—told her. After recent events brought the truth to light, Artemis must gather the courage to face her lost love again.
Chaotic War (Book 3)
While Zavier Sullivan may be the calm, reserved brother, his dragon is not. Especially since the beautiful, unorganized demi-goddess, Danielle Roberts—a.k.a Elle—moved into the mansion and into his life. She disturbs his OCD and makes him yearn for things he shouldn't, but he can't stay away from her. Nor can he deny her anything. Including his blood.