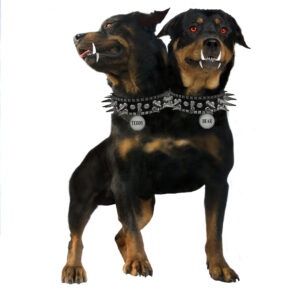 Happy Tuesday! Some of you may remember the character to the right. It's Teddy-Bear, the Siamese twin hellhounds from The Divinities! I love them and missed them along with the rest of the Divinities. If you missed them too, I have great news.
The Divinities are back!
I retained my publishing rights back from the publisher for Forgotten Visions. It is currently in the hands of my editor for a complete re-edit/re-polish. Some things may change, but I'll know when she sends me the first pass.
While I wait for edits n Forgotten Visions, I'm revising Death's Storm and extending it to about 50,000 to 60,000 words! It has a new chapter one and a little more background on Khloe and Kalissa's parents as well as the dark and delicious death demon, Jagger.
After DS is sent to Chelle for editing, I'll start on Zach and Lydia's story, Dark Divine. That one is going to be darker. The thing Zach has to go through…
After Dark Divine comes Divine Awakening. This may be the final book in the series. Right now I see it will end with this one. But you know nothing is set in stone, so we'll have to see how it goes. *winks*.
AND be on the look out for a cover reveal coming in the newsletter soon!
Have a wonderful week!
Hugs, Lia