Fall Into Magic
Prepare to be swept away by 20 paranormal romance and urban fantasy tales from today's bestselling authors! In this limited edition collection, you will find everything from witches to mages, shifters to vampires, demons, faeries, and much more!
Pre-order it today!
Amazon: http://amzn.to/2bgA69s
Check out this epic line up and secure your copy today!
USA Today bestselling authors Rebecca Hamilton & Conner Kressley
International bestselling author Lia Davis
USA Today bestselling author JC Andrijeski
USA Today bestselling author Rainy Kaye
USA Today bestselling author Laxmi Hariharan
USA Today bestselling author Joanne Wadsworth
USA Today bestselling author J.E. Taylor
International bestselling author Steffanie Holmes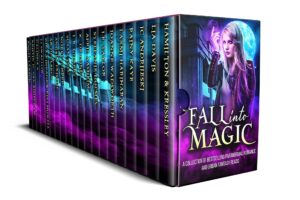 USA Today bestselling author April Aasheim
USA Today bestselling author K. de Long
USA Today bestselling author L.B. Gilbert
USA Today bestselling author Susan Stec
USA Today bestselling author Noree Cosper
USA Today bestselling author Angela Fristoe
International bestselling author AR DeClerck
International bestselling authors Gina Kincade & Kiki Howell
USA Today bestselling author LJ Swallow
International bestselling author Calinda B
Award Winning author Kristin D. Van Risseghem
USA Today bestselling author Angel Lawson