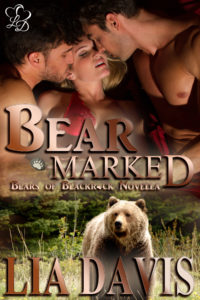 This week's Six Sentence Sunday is from Bear Marked, book 4 of the Bears of Blackrock series.
"Ryan? Ryan!"

The tremble in his sister's tone broke his heart. But what's done was done. He sealed his fate that day he offered to take Tiffany's place as the demon's mate. Nothing was going to change that not even the fact Kaylee was his destined mate.
Bear Marked
Bears of Blackrock, book four
Get it at your favorite eBook store: https://books2read.com/u/38gKrL
A demon owns his soul.
Bear shifter and youngest son of the Blackrock Clan Alpha, Ryan Black, refuses to tie another to the demon who marked him. A demon who claims to be his mate. And now, staying away from the curvy beauty, Kaylee Martin, tears at his heart.
Her secret could kill her.
Kaylee has loved Ryan from the moment she met him at his sister's café a few years ago. His boyish good looks and playful charm are only two of the reasons she's drawn to him. But admitting her feelings for the bear would expose a secret she's spent a lifetime protecting.
A demon with heart.
Adair doesn't fit into the demons' world and marking his mate, Ryan, was the only way to protect him and his family. Kidnapping Ryan's sister to gain the bear's attention and trick him into the mating was the biggest mistake of Adair's life. When he sees Kaylee for the first time, he's confused. Two mates? However, Kaylee isn't what she pretends to be.
When demons threaten Kaylee's life, Ryan faces tough choices. He must learn to listen to the truth and forgive Adair, because working with the demon to protect their mate sparks a desire too strong to ignore.