Did you know we're doing a Facebook page hop right now? There is some awesome grand prizes. Plus each author is doing their own giveaway.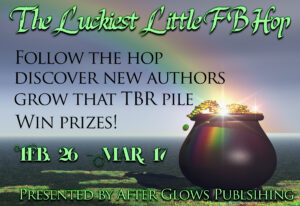 After Glows Publishing along with 46+ amazing authors have teamed up for FB Hop with a HUGE party at the end. Get introduced to new authors, visit your favs, and grow those TBR lists.
Join us for 18 days of giveaways and fun.
Winners will be selected at random and announced on Event Day (March 17) in the After Glows Publishing Reader's Group. Join the group here: https://www.facebook.com/groups/AfterGlowsPubReadersGroup/
To follow the hop for more fabulous prizes and to enter the Grand Prize giveaway, go here: https://authorliadavis.com/after-glows-giveaways/