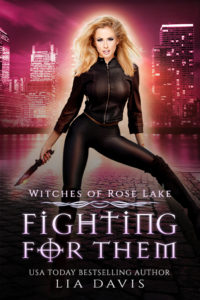 This week's #SSS is the first 6 lines from Fighting for Them, book 2 in my reverse harem paranormal romance series Witches of Rose Lake.
Please note this is unedited. Enjoy!
I will find you. Then I will make your death slow and painful.

A snarl that would make my wolf shifter boyfriend, Zane, proud ripped from my throat as I stared into the crystal bowl of water. A scrying bowl I used it to search for my two loves my demonic father stole from me.

The fear and anger battling inside me was eating away at my soul. And so was the mounting frustration. I was jumpy, moody, and wanted to know where the hell my father took Dimitri and Wade.
Fighting For Them
Witches of Rose Lake, book 2
Find it at your favorite eBook store: http://books2read.com/u/b5MMBR
I'm not running anymore.
I've spent half my life trying to escape a father who wants me dead, and Salrus drew his last card when he took two of my five loves from me. Zane, Wyatt, Trevor, and I will stop at nothing to get Dimitri and Wade back. But we have issues other than my demonic father to deal with.
The Council's army is growing and they are using ancient relics to make them more powerful and dangerous than the half-breeds they're hunting down.
Half-breeds like me.