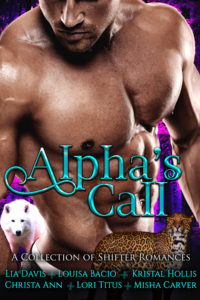 Happy Sunday! Welcome back to another Six Sentence Sunday. For those who are new to SSS, it's like a blog hop where a group of authors shares teasers (usually 6 sentences) from their current releases or works in progress. It's super fun to follow.
For the next six weeks, I'll be sharing teasers from the Alpha's Call Boxed Set. Each week I'll share the first SIX from each story in the set. Today's SSS is from Marradith, Darkly by Lori Titus. Enjoy!
The wind blew. Cold crept into his flesh; he could not even shiver.His eyes were heavy. In the darkness, he barely saw a sliver of moon. There were trees above and a pristine, black sky. Closing his eyes, floating in the depth of a greater darkness, calm washed over him.
Find more SSS posts on their FB page: https://www.facebook.com/SixSentenceSunday/
Find more about Alpha's Call here: https://davisraynespublishing.com/alphas-call-a-collection-of-shifter-romances/