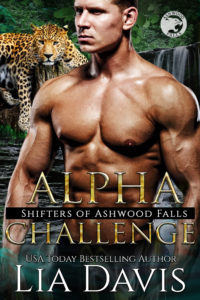 HappySunday! Welcome back to another Six Sentence Sunday. For those who are new to SSS, it's like a blog hop where a group of authors shares teasers (usually 6 sentences) from their current releases or works in progress. It's super fun to follow.
This week I have the another UNEDITED six from Alpha Challenge (Shifters of Ashwood Falls, Book 10). Enjoy!
He caught Rhea's lavender scent and he met her stare instantly. She was back in wolf form and beautiful and her scent drove him crazy. When she caught up with him she rubbed her body against his. He groaned and playfully nipped at her. She walked a few feet in front of him then laid down in the grass. It was an invitation for him to come with her.


He stretched out the beside her, loving the way his cat and her wolf connected. She never pushed him never questioned him on why he hadn't started the meeting dance, yet. But he knew it hurt her, because it hurt him.


Why was he punishing both of them?
Find more SSS posts on their FB page: https://www.facebook.com/SixSentenceSunday/