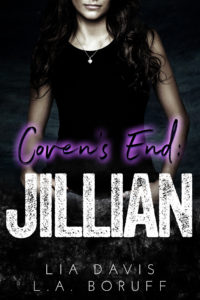 Part 4: Jillian
I'm not your typical princess. Don't expect me to rule from afar, but I've only just met my mates. I'd like some time to spend with them before taking on the rule of every Lycan on Earth.
My vampire offers me an escape from the rules. He's my forbidden pleasure.
My broken sentry keeps me grounded and reminds me not to take anything for granted.
My best friend, by my side since I was born, protects me and reminds me of the rewards of leadership and pack family.
But nothing, not even my mates, prepared me for our final fight.
The Vampire Council doesn't approve of our nontraditional relationship. They'll stop at nothing to prevent the merge of the Vampire Coven and the Lycan Pack.
The Lycan Council resists my every move.
Is love enough to end this war?
Available at your favorite eBook store: https://books2read.com/Jillian
Coven's End is four-part reverse harem paranormal saga.
Find out more here: https://authorliadavis.com/covens-end/