Starting today through Sunday (10/18) you can OWN Devil's Consort for FREE!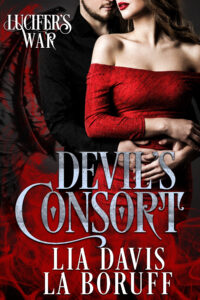 Download it at Amazon: https://amzn.to/2USFkg2
The road to Hell is paved with deadly desires.
Lucifer Morningstar's thoughts have always been consumed with visions of a dark-haired beauty. She is the key to stopping the darkness that is coming. She's the key to his heart, if he still has one.
He saved her from death then set her free. Still, he didn't gain her trust.
She is the only woman he has ever loved.
And now war is brewing. Hell cannot survive without her.
And neither can Lucifer.
She's the mother of all vampires.
Lilith used to be human before Lucifer changed. He made her to be the most powerful woman in existence.
But power comes with many costs.
For hundreds of years she fought her attraction to the King of Hell. Even though he saved her. Even though he gave her everything, including a son.
Unfortunately, Lucifer also took away Lilith's humanity. He turned her into a demon.
Despite her best efforts to resist him, Lucifer convinces Lilith to return to Hell.
He needs her, after all. And perhaps it is time to accept her fate.
Can she truly be happy being the devil's consort?
NOTE: because this is an Amazon Kindle Unlimited promotional sale it may not be free in all countries.