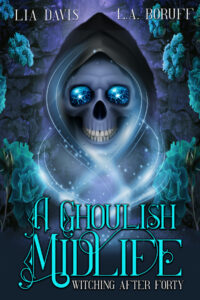 Happy Monday! Today is release day for A Ghoulish Midlife, the first in a new paranormal women's fiction series I'm co-writing with LA Boruff titled Witching After Forty.
To celebrate the new release I'll be posting some giveaways all week here on the blog. So be sure to check back each day.
Today I have a teaser from A Ghoulish Midlife to share with you PLUS I'm giving away a $10 Amazon gift card. Just share this blog post using the share buttons at the bottom of the page and comment letting me know you did. I'll pick one random commenter on Sunday, 12/6/20.
Now for your teaser. Enjoy!
© Lia Davis and LA Boruff 2020. All rights reversed
Do not copy and distribute any of the content below. If you which to share it with your friends, use the share buttons at the end of the post or copy the blog post URL.
It was a slow morning, so I got everything behind the counter organized and dusted before my first customer came in. When the little bell over the door sounded, excitement filled me, then died almost as fast.
Of course, of course my first customer was Olivia. Great! Just what I needed.
"Ava!" Olivia squealed as soon as she walked through the door and saw it was me behind the counter. Super.
"Hey, Olivia, how are you?" I checked my watch as I stepped up to the counter across from her. The woman was too perky. And way too happy that I was back in town. Had she not had anyone else to torture since I left Shipton? "Where's Sammie?"
"He's at kindergarten. Can you believe he's old enough for school?" Olivia poked out her bottom lip and did a fake sniff.
I didn't bother to hold in my laugh. We weren't friends in high school and weren't nice to each other so why start now? Her sudden interest in me was suspicious. I kept feeling that if I let down my guard and accepted that she might have changed like Sam said, I'd be the one who got crapped on. However, I trusted Sam and loved him like a brother. He'd asked me to give her a chance, and I would try. I just didn't think that meant talking to her all the time.
Now that she knew I was working at Imaginary Homes Bookstore, there was no stopping her from hanging out when I worked. That was fabulous. Not. Studying her for a long moment, I asked, "Do you work?"
She grinned and shook her head. "Nope. My settlement from my divorce helps me stay at home with Sammie and all the things I couldn't do with Jess and Devan." Sadness passed over her face, but it was gone in a flash as she smiled at me. "I know Sammie is my third child, but it wasn't any easier to send him off to school this year. It might've been a little harder. I miss that little guy during the day."
I totally understood about sending a child off to school for the first time. Wallie was in college, and I'd still cried when I had to leave him at his dorms. I'd cried ugly fat tears all the way home.
However, Sammie wasn't Olivia's first child. She had two others, Jess—short for Jessica—and Devan, from her first marriage that were in college. I didn't mention that she was a pro at this mother thing, even though it was on the tip of my tongue. A part of me wanted to tease her in a friendly way. What was that about?
I didn't understand the urge to be playful with her. We weren't friends. Plus, I was at work. It was just so hard to be nice considering I didn't trust Olivia's bubbly, happy-to-see-me personality at all. I was halfway convinced Olivia had married Sam out of spite. Or to piss me off.
That was how it had been when we were in school.
Olivia leaned against the counter and watched me for a long moment. Her gaze searched my neck and the surrounding area as if she thought she could see my witch mark. The most common area for the mark was on the neck or above the collar bone where it was easy to see or expose to other witches. Only those with magic in their blood could see the mark. Olivia had no magic. She was as human as they came.
It didn't matter whether or not she had the Sight. My mark was not on my neck. It was on the inside of my right forearm.
"Sooo," Olivia said, drawing out the small word as she gave up her search for my witch mark. I lifted a brow, waiting for her to continue. "Sammie's teacher, you remember her. Carrie Treehill, she was a couple of grades behind us?"
I nodded as if I had any recollection of this person. I didn't because I was terrible with names. And faces, sometimes. "Sure."
"Well, she just left her husband, and everyone is saying he cheated on her. The jerk." Olivia pursed her lips, then widened her eyes and leaned in close. "I was thinking," she whispered. "If it's true, can we curse him? Because I really like Carrie."
We? Did she have a mouse in her pocket? I crossed my arms and glared at her. Olivia knew I was a witch. Well, she believed I was a witch like everyone else. No one but Sam and my family knew I was so much more. "First, cursing people brings you all kinds of bad mojo. Two, there is no we."
She deflated a bit. "Maybe curse is too strong of a word. We could do something, a spell maybe, that would make him feel sorry for being a cheating butt face." Olivia tapped her fingers on the glass countertop.
There she went with the we again. I didn't come back into town to cast spells on people. "That answer is no. I'm not that kind of a witch."
It was true. I wasn't. Not really. If I wanted to, and I really didn't, I could raise the dead, create undead creatures, and other dark magic that gave witches a bad name in the first place. Necromancers were good like that.
My magic was stronger than the average necromancer. Plus, I also had witch magic. I was a magical hybrid, one of a kind. It was a secret I planned to take to my grave.
She gave me big eyes and a pouty lip. "Maybe just a little something? Like give him ED for a month?"
I snorted then covered my mouth. The last thing I needed to do was encourage Olivia. "That is still doing harm."
Cheating wasn't a big enough offense for me to risk Karma paying me a visit. I wasn't about to say that out loud because Olivia would take it and run. No doubt she'd dig up more reasons to make the cheater pay.
A customer came in, nodded at us, and moved down one of the aisles of books. Olivia shrugged. "It was worth a shot. I guess I can wait for Karma to catch up with him."
Had she read my mind? "And she will. Eventually."
Olivia's eyes widened. "Do you know Karma? Maybe you can call her?"
I tried so hard not to laugh and failed. "No, I don't know Karma. She might not be a person."
Glancing toward the bookshelves, Olivia tapped her fingers on the glass countertop then checked her watch. "I need to go. It's my turn to bake cupcakes for the kids today. We should do lunch tomorrow."
I had a feeling that if I didn't have lunch with her, she wouldn't leave me alone. Then again, if I did, it was possible she still wouldn't leave me alone. It was really a lose-lose situation. "Fine. Call me in the morning."
I didn't need to give her my number. She could get it from Sam's phone.
She let out a small squeal and clapped her hands. "I'll call you in the morning."
Before I could tell her not too early, she was gone.
Great. If she called my phone before the sun fully rose, I would seriously reconsider my no cursing people policy.
Own it today: https://amzn.to/3nbYZ80
Also available in Kindle Unlimited!