Featuring
Feral Protector by Amy Pennza
Follow Amy:
Amazon: http://amzn.to/2CjJ6WL
Bookbub: https://www.bookbub.com/authors/amy-pennza 
Twitter: https://twitter.com/AmyPennza 
Website: https://amypennza.com/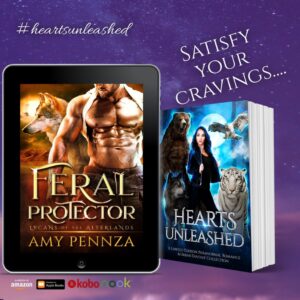 Welcome, Amy! Please start off by telling us a little about yourself.
Like a lot of romance authors, I used to be a lawyer. I don't know why there are so many of us, but it's an interesting phenomenon. Maybe because lawyers tend to read a lot? Anyway, I'm a mom of five, so life is never boring around my house. I'm also an Army veteran, which really comes in handy when you need to get five kids out the door fast.
What genres do you write?
Paranormal romance and contemporary romance. I also have a sci-fi romance out there, as well as a women's fiction novel. 
How many books have you published?
I think I'm at 15 now, which six releases planned for this year. 
What can a reader expect when picking up one of your books for the first time?
Very steamy stories (no closed doors here!) with strong heroines and ultra-possessive alphas. No cliffhangers, ever, and happily-ever-afters always. 
What were your inspirations for Feral Protector?
One of my first books was a sci-fi space opera romance set on a post-apocalyptic prison planet. Think Mad Max but heavier on the romance. I love that kind of worldbuilding, and I really wanted to write a shifter romance in a dystopian world. I like putting a different twist on the lycan myth.  
Please share your setting for Feral Protector. Have you ever lived or visited there? If so, what did you like most?  
Feral Protector is set 70 years after The Fall, which is how the characters in this world refer to the collapse of human civilization after the Lykos-D virus infected the population. There are some subtle climate change themes in the book, because the virus probably spread due to melting glaciers, which released an ancient "werewolf" virus. There is actually some scientific basis to this, as scientists today worry about long-dead viruses and bacteria getting released into the modern world. We don't have an immunity built up to some of these nasty diseases, so there is a great deal of concern about warmer temperatures melting the ice. 
How did you research or prepare?
The heroine, Eden, is a doctor, so I wanted to make sure I got all the medical terminology she uses correct. I also write about werewolves in many of my books, and I've done a lot of research on wolf behaviors. There are some really interesting facts about how wolves communicate with each other and how they arrange themselves in their pack hierarchy. 
When did the writing bug first bite?
Like a lot of authors, I started writing very young. I used to make books out of construction paper. My youngest son does this same thing now, which is really cute to see. 
Who are your favorite authors, book/series?
I read just about everything! I love Anne Rice, whose books first got me interested in paranormal romance. She also has some incredible historical fiction books, including one about castrati in eighteenth century Italy. I'm also a huge science fiction and fantasy reader. I've lost count of how many times I've read The Lord of the Rings.   
Do you have any hobbies or special things you like to do in your spare time?
My kids play a ton of sports, so we're usually on the go. 
Boxers, brief or commando?
Boxer briefs! 
Favorite eye color?
Hazel 
Do you have a set writing schedule or do you just go with the flow of life and write when you can?
I can get a lot of writing done if I wake up several hours before my family lol.  
Describe your perfect alpha hero.
A man who's strong and protective without trampling on the heroine's rights or personality. 
Thanks, Amy! Get more paranormal themed stories like Feral Protector in Hearts Unleashed, a Limited Edition Paranormal Romance and Urban Fantasy Collection of 20+ NEW heart-pounding supernatural fiction featuring sensual heroes and sassy heroines.
Amazon: https://amzn.to/355Dcal
Universal: https://books2read.com/hearts