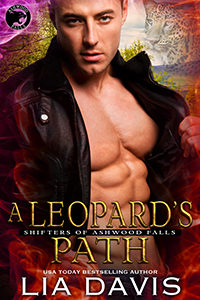 Shifters of Ashwood Falls, book 8
Available at  Amazon I Apple I Google I Kobo I Nook I Smashwords
Available in Audiobook at Audible | Amazon | iBooks
Stolen from her family as an infant, Ana Darwin-Andrews has to piece together her past and present. Her whole life is a lie. There's only one man she feels she can trust, but even he has secrets.
Kieran Michaels keeps a tight lid on his past, but the Onyx Alpha knows his darkest secrets. Kieran will stop at nothing to destroy the rogue before the past is revealed. Ana can never discover his hands are as bloodstained as their enemy's, because life without her is not an option.

What Readers Have to Say:
Her whole life was a lie.
Well, not her life exactly. Her biological father wasn't the one she'd grown up knowing. Keegan Andrews wasn't anything like the man who raised her. The monster, Felix, who'd stolen her from her true family and taught her to believe the Ashwood Falls Pack—the one she should have grown up in—was the enemy. The only thing Felix didn't lie about was the fact that her mother was dead. He'd just left out the part where he was the one who killed her and stole Ana from her womb.
Ana clenched her teeth and gripped her coffee mug a little tighter. Life since coming to Ashwood and meeting her real family had been…nice. And challenging. Some of the younger Pack members still stared at her like they were waiting for her to turn on everyone. She couldn't blame them really.
Releasing a sigh, Ana fingered the rose-shaped locket she'd worn for as long as she could remember. When she'd met Keegan in the summer, he'd told her it had belonged to her mother, Cate. It was she who'd picked the name Zorana. While Ana loved the name, she had always felt it a bit too exotic for her.
You can't dwell on the past forever.
Ana forced her muscles to relax and leaned against the doorframe of the MoonRiver house she was temporarily staying in with Blaine—her brother and leopard Alpha of Ashwood Falls—and his two mates. She sipped her coffee as snow flurries drifted from the sky. The crisp early winter air soothed her cat, even while it tantalized the woman. She loved winter, loved the cold and snow. However, the sight in front of her was far from the magickal image she'd expect from the first snowfall.
MoonRiver used to be the wolves' den before they merged their Pack with Ashwood. Now, Ana saw the full impact of the war that had pushed Luna to merge her wolves with the leopards over thirty years ago. Few homes still stood, and those that did were not unscathed. Others were either completely destroyed or just plain uninhabitable. The sight made the attack on Ashwood a few months ago appear like a training exercise in comparison.
Shame, pain, and outright rage whirled inside Ana like a cyclone. She had once called the monster responsible for all this Father. Not anymore. The dark veil had been lifted, and now she saw the truth.
Felix Darwin would pay for every life he'd destroyed.
And she was going to help make it happen.