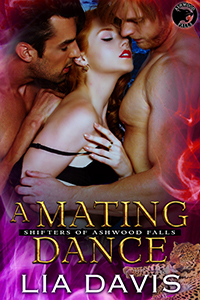 Shifters of Ashwood Falls, book 3
Available at Amazon I Apple I Google I Kobo I Nook I Smashwords
Available in Audiobook at Audible | Amazon | iBooks
Senior enforcer, Cameron Nickels has found her perfect mate. Blaine Andrews, leopard Pack Marshal, is strong, dominate, loyal, and passionate. He knows all her strengths and weaknesses—not to mention her pleasure points. Cam's known Blaine most her life, but she's always felt like something was missing and her jaguar refuses to fully accept him. Yet, she can't walk away from him. When architect and sexy mountain lion shifter, Graham Griffin, comes to town to design the new den nursery and school, Cameron finds herself in a mating dance that throws her and her jaguar into flight mode while Blaine must decide if he cannot only share his mate, but welcome another.
After his lover walked out on him a year ago, Graham has no intentions of entering another relationship any time soon. But he realizes that the fates have other plans for him when he meets Blaine and Cameron. When his ex-lover's children are chased into Ashwood territory by a group of rogues, he discovers the male he shared a life with had died freeing the kids from the Onyx Pack. Graham must work side-by-side with the two enforcers to uncover lies from the past while his heart opens to his true mates.

What Readers Have to Say:
Excerpt:
Cameron Nickels crouched low to the forest ground, her eyes fixed on two rogue wolf shifters, members of outlawed Onyx Pack. She knew they were rogues by the Onyx tattoo on their forearms, and by their scent. Rogues had an unmistakable coppery scent of blood mixed with a hint of dirt and decay.
She shuttered and tried not to breath in the recant odor.
The rogues circled around the trees searching for whoever they'd chased into this section of the forest. Cameron, Blaine and several other enforcers trailed the rogues about a mile outside Ashwood Falls—the wolf/leopard Pack located high in the Smoky Mountains—which, as far as Cameron was concerned, was too fucking close to Pack territory.
The night was perfect for rogue killing—clear, slightly warm, and the full moon high in the sky provided just enough light filtering through the trees. It was almost the end of March, and the air was finally starting to feel like spring.
The warm breeze brought a rancid smell of rotting meat to her senses, much more fowl than the rogues. She growled and focused her preternatural vision and scanned the surrounding area. Three mutants—the Onyx Pack's half-human, half-animal assassins—stepped out of the tree line behind their rogue masters. Even after fifteen years of being an enforcer, she had never gotten used to the sight of the mutants. They stood twice as tall as any shifter she'd ever seen. They were also frozen in mid-shift, eerily close to the some of the human myths of werewolves.
One of the three was actually a half-puma, and female. Golden hair covered her body and her hands were extended claws. Cameron didn't need to see her face clearly to know that the bone structure looked nothing like human or beast, but a creepy combo of the two. Sharp cheekbones stretched the skin over the enormous head, making it impossible to miss the prehistoric fangs jetting out of her jaws.
The mutants spread out to circle the rogues protectively in the middle of a group of large oaks. By the way they stood still, like imperial soldiers forbidden to move or speak, they hadn't realized they'd just become the hunted.