How many times must Ember rise from the ashes before she's ready to soar? 
After surviving the Wicked Reform School, Ember Bailey is determined to take her
rightful place as Alpha of the Azorea Cay Phoenix Clan with dignity and grace. Her
mother, the beloved leader of their people, is leaving big shoes to fill. And Ember knows
that change is often difficult for others to accept.
Before she can assume her duties, Ember must attend the Academy of the Phoenix.
But pursuing a degree and becoming a worthy queen isn't her only priority. She's also
ready to get to know her four mates, no matter how complicated such a relationship
might be. She isn't afraid of hard work, sacrifice, or compromise.
When it seems Ember is on the right path, obstacles find a way to challenge her at
every turn. As she learns to accept that life will always knock her off track, she must
also grow to trust that Lucent, Zelphar, Karn, and Caleb have her back. And each of
them is ready and willing to do whatever it takes to prove his love for her.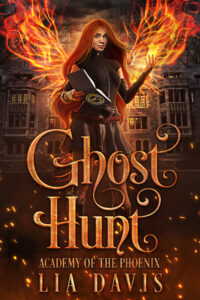 Available at:  Amazon I Apple I Google I Kobo I Nook
As heir to the throne of the Azorea Cay Phoenix Clan, Ember Bailey is committed to
being as strong and fair as her mother. Her people deserved nothing less in their queen.
Attending the Academy of the Phoenix is the first step to learning the business side of
things while training with her three dads built up her strength to protect the clan. Those
two things keep her away from exploring the new relationship with her four mates.
But nothing is without sacrifice. At least she has Lucent by her side and can video chat
with the other three men. You know, a nice normal collage princess lifestyle.
But trying to find a sense of normalcy after spending months at the Wicked Reform
School, proves to be impossible. As the Academy of the Phoenix is ravaged by a ghost
with a grudge, death and foul play plague the campus. With one teacher dead and
another missing, can Ember, Zelphar, Karn, Lucent and Caleb track down the evil spirit
and vanquish it before it has a chance to kill again?
The Devil's Mage (Book 2)
The Crown of Temptation (Book 3)