They are vampire/lycan hybrid triplets who want some kind of normal college life. But life is never simple or normal when you're the granddaughters of Lucifer and heirs to the Collective throne.
Academy's Rise is a steamy reverse harem paranormal romance trilogy set in the Collective World and a spin-off from Coven's End. Are you ready to meet Kane and Jillian's Triplets?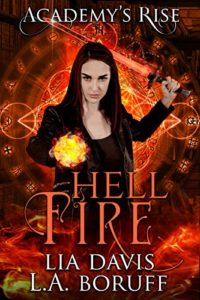 Available at Amazon
Read on Kindle Unlimited
One day, I'll rule every lycan and vampire in the world as their hybrid High Alpha with my triplet sisters at my side.
As if that's not enough pressure, I just met my fated mates, and one of them is the heir to a massive witch coven.
If we have babies (WAY in the future, geez) they'll be witch-vampire-lycan hybrids. With Lucifer and Lilith as their great-grandparents.
But I can't even think about that right now. I have to figure out why all the students at my school act like they're hypnotized. And get to know my mates. And try not to rip my freaking clothes off every time I see them.
Oh, and do all that without my parents finding out. Cause they'd FREAK.
---
Available at Amazon
Read on Kindle Unlimited
As firstborn, my sister, Meda, will be High Alpha to all the lycans and vampires in the world—The Collective. She's just found her mates and one of the three is heir to a huge witch Circle, which will one day unite the three major paranormal races.
I dodged a major bullet there. Thank Lucifer. I'm not a leader. I'm not someone to look up to. I like to do my own thing and go my own way.
Unfortunately, I'm pretty sure I'm fighting a mating bond myself. As if I needed three guys hanging on to my every freaking word.
And now, I'm having visions of what's to come. It isn't pretty.
My sisters and I must race against time to figure out what the vision means and how to stop the pending evil from destroying everyone we love.
Failure isn't an option.
---
Available at Amazon
Read on Kindle Unlimited
Our biggest fight is yet to come.
I watched my sisters claim their fated mates with my heart full for their happiness.
Now it's time to face my own mates. Two of them have been at my side, and I'm waiting for my third. After all, it's now a family tradition to have three mates. I wonder if reality can be as good as the fictional worlds I love to live in.
Our world isn't all rainbows and hellhound puppies. There's something coming bigger than any of us have ever faced.
Now that I've tapped into my massive powers, I will do what it takes to save my family and my mates. I've had just about enough running and hiding behind wards and our sentries. It's time to end the threat from Hell once and for all.
Enough is enough.
---
The Complete Series Bundle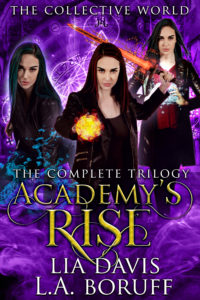 Buy the ebook from  Amazon 
Read on Kindle Unlimited